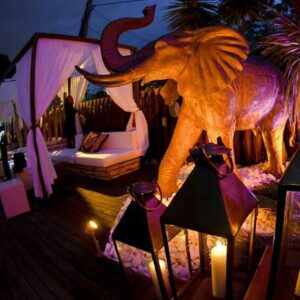 Last Updated: 14th September 2017
The buzzing nightlife in Barcelona is one of the reasons why millions of visitors from all over the world come to the Catalan capital. Whether it's a quiet drink in a chic beachfront locale, or a crazy night in one of the city's most famous party clubs you're after, there is something for every reveler in Barcelona.
While there are hundreds of amazing venues in the city to explore, each one offering something a little different, we've managed to narrow our favorites down into one short guide to the 10 best clubs in Barcelona.
1.      

Bikini – Live Music Acts & Nightclub
This Barcelona club, situated in Les Corts, doubles as both a venue for live gigs and one of the chicest spots to enjoy a cocktail (or two!). The slick interior of this stylish club is the perfect backdrop for a memorable night, as you shake down to the latest hip hop and R&B tunes or house music spun by some of the most famous DJs in the industry. Be sure to check out the official website for Bikini's various theme nights including 'Fraternity Night'.
How to get there: Avinguda Diagonal, 547. Metro station: Maria Cristina (L3)
2.      

CDLC – The Orient Meets the Mediterranean
This luxurious Barcelona club offers the perfect mix of exotic and exquisite tastes with its fusion of Eastern pizzazz and Mediterranean charm. Perfect for dinner then dancing, this club/restaurant offers a delicious menu which includes sushi, sashimi, fresh fish and much more. Wash it all down with CLDC's signature cocktails: Mojitos, Margheritas and Caipirinhas, and you're in for a great night. After digging into these divine delicacies, mingle with Barcelona's elite as you dance the night away!
How to get there: Passeig Marítim de la Barceloneta, 32. Metro station: Ciutadella/Vila Olímpica (L4)
3.      

Opium Mar – The Place To Be Seen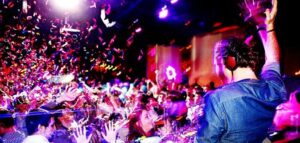 With the Mediterranean Sea as its backdrop, Opium Mar is one of Barcelona's most exclusive clubs, and should definitely be a-top the list of those who wish to be surrounded by the city's elite. Not only does this venue offer the chance to enjoy some top-class dining, but as the sun sets over the Catalan capital, it turns into one of Barcelona's best spots for nightlife! Here you can enjoy some of the coolest theme parties in Barcelona while top DJs spin the night away.
How to get there:  Passeig Marítim de la Barceloneta, 34. Metro station: Ciutadella/Vila Olímpica (L4)
 4.      

Shôko – Sleek & Stylish
One of Barcelona's most famous clubs, Shôko, is another top choice for those who seek an unforgettable night out. Best described as an Asian-Mediterranean fusion restaurant by day and a wild party spot at night, it is often a typical haunt of celebrities visiting the city, including the likes of Coldplay and Madonna. It is also known for hosting after-parties and some of the most inspired themed shindigs on the Mediterranean coast. Be sure to head there in the summer when you can enjoy your drinks right on the waterfront!
How to get there: Passeig Marítim de la Barceloneta, 36. Metro station: Ciutadella/Vila Olímpica (L4)
5.      

Sutton – Chic & Classy
This Barcelona nightclub is a must for those in search of night that has it all: cool cocktails, top tunes and an amazing atmosphere. This is a select venue so be sure to dress your best as celebrities such as Paris Hilton and Mario Casas often grace the crowd. This top club has something for everyone with various 'color-coded' areas offering music from different genres and much more!
How to get there: Calle Tuset, 13. Metro station: Diagonal (L3 or L5)
6.    

 Pacha 

– A Taste of Ibiza
Located in Port Olímpic, Pacha brings a taste of Ibiza to the shores of Barcelona. Pacha hosts some of the best nights in Barcelona every day of the week, including the best of R&B at Break Outers Mondays and Ibiza-themed parties with Pure Pacha Thursdays and Feel Ibiza Saturdays. If you're looking for one of the biggest parties in Barcelona, with internationally renowned artists, this is the place for you!
How to get there: Passeig Marítim Barceloneta, 34. Metro Station: Ciutadella/Vila Olímpica (L4)
7.      

Sala Razzmatazz – Live Music Heaven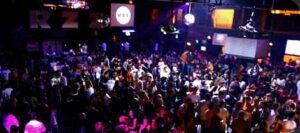 Razzmatazz is one of the best venues in Barcelona for live music. It is situated in a warehouse and has five club spaces allowing it to cater to every musical taste. Whether you wish to dance the night away, or jam out to your favorite rock band, pop artist or something a little bit heavier, Razzmatazz is the place to be! With endless concerts every month, be sure to check out the Razzmatazz website for more info on upcoming concerts and international acts.
How to get there: Carrer Pamplona, 88. Metro station: Bogatell (L4)
8.      

Sala Apolo – A Touch of Indie
Offering a slightly different musical experience to Razzmatazz, Sala Apolo in Barcelona is known to play host to top indie bands, as well as blast out some of the coolest reggae tunes, and electronic beats. With two music halls, this venue is definitely worth checking out if live music is up your alley. Be sure to check out one of this club's best parties: Nasty Mondays at Sala Apolo on Monday nights!
How to get there: Nou de la Rambla, 113. Metro station: Paral.lel (L2 or L3)
9.      

Jamboree – 'And All That Jazz!'
If it's something with a deeper beat you're looking for then this Barcelona jazz club is for you. Jamboree is known to host some of the biggest names in both local and international jazz artists, with back to back shows nightly at 8pmand 10pm. Be sure to check out the 'WTF Jam Sessions' every Monday at 8pm and after the stroke of midnight enjoy this venue as one of Barcelona's coolest nightclubs with a variety of tunes to tickle your musical taste buds.
How to get there: Plaça Reial, 17. Metro: L3 (Liceu)
10.  

Elephant – Indo-China in BCN
In search of a trendy and elegant locale for a fun night out? Look no further than Elephant Club in Barcelona! One of the Catalan capital's newest hot spots, this chic club is split into four areas with the most notable being the Marquee- decorated with bronze elephants, Buddhas and a dash of Indo-China decorations. Dance the night away to the latest 'house' music tunes at the main bar, or meander off to the other areas for something slightly less laid back.
How to get there: Passeig de los Tilos, 1. Metro station: Maria Cristina or Palau Reial (L3)
So, whether you wish to spend the night at one of Barcelona's beach clubs or prefer to rock out to your favorite band, the Catalan capital has it all! For those on a budget, many of these cool Barcelona clubs offer free entry before a set time. All you need to do is head to the various Facebook pages to find out more. Party on!