Millions of people flock to Barcelona every year to enjoy the city's amazing architecture, cosmopolitan style, and of course, its buzzing nightlife. Aside from the jumping clubs at the Olympic Port, the elite cocktail bars of Sarrià and the good old pubs on Las Ramblas, there are plenty of other taverns in the Catalan capital worth experiencing, most notably: theme bars. Whether you choose to lose yourself in a magic forest, marvel at the remains of Spain's famous bullfighting era, or enjoy a rowdy celebration alongside Barça's biggest fans, hitting one of these innovative theme bars in Barcelona will certainly give you something original to discuss on your journey home.
Més Que un Bar
No trip to Barcelona would be complete without experiencing the atmosphere when FC Barcelona, the pride and joy of the city, graces the pitch! If you were unable to get your hands on those coveted tickets, rest assured, there is an alternative: La Taverna de Barcelona! On match days, this 1920's themed bar, laced with authentic movie posters and classic trinkets, turns into one of the best hangouts for Blaugrana fans in Barcelona. Red and blue flags fly and the Barça anthem is sung as everyone turns to the 8 big screens to cheer on the team. This is definitely the perfect hangout for those who wish to watch Messi and the boys in action…iVisca Barça!
Where can I find it: Ronda de la Universitat, 37.  Metro station:  Plaça Catalunya (L1 or L3)
A Fairytale Adventure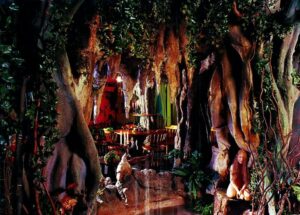 For a night of magic in an unusual setting, head to El Bosc de les Fades Café in Barcelona. Directly translated as 'forest of the fairies', this joint is part of the Barcelona Wax Museum and makes an ideal starter bar for a night on the town. Lifelike trees, gnomes and mystical creatures welcome you as you enter this dark and mysterious locale, complete with a waterfall. Let your imagination run wild as you discover the secrets of this magical place, sure to leave a lasting impression. Don't forget to check out the 'haunted house' at the back of the bar, complete with creepy mannequins and a magic mirror, where apparitions appear and vanish…
Where can I find it: Passatge de la Banca, 7. Metro station: Drassanes (L3)
A Touch of Spain – Olé
Always had an interest in the captivating world of bullfighting? Then there is one place in Barcelona that you must visit: Los Toreros Restaurant and Bar! This eatery-cum-bullfighting museum may not seem flashy from the outside, but once you step into this alternate world, the appearance from the exterior is soon forgotten. Enjoy a night with a group of friends as you find yourself surrounded by 'torero' paraphernalia in all shapes and sizes, from the unmissable bull's head that is proudly displayed, to the fading antique posters of this once emblematic act. Gulp it all down with a glass of house rioja or sangria while you enjoy some of the finest tapas in Barcelona!
Where can I find it: Calle Xuclá, 3-5. Metro station: Liceu (L3)
Tropical Times – Kahala Tiki Bar
Pop on your Hawaiian shirt and head to Barcelona's best tiki bar: Kahala. This is a tropical paradise is sure to transport you straight to island life…even if just for a few hours! Upon entry, you'll immediately become immersed in all things Tiki, as you cross the pond then head to the main room where you'll be surrounded by wooden masks, aquariums (complete with small sharks!) and a dry ice mist. With a wide selection of cocktails to choose from, all served in a cool style (we don't want to give too much away), you will feel like you have stepped into Hawaii itself. We suggest enjoying the Ponche de Plantador (Planter's Punch) or the Ciclones de Azores (Hurricanes) to get your island getaway started!
Where can I find it: Avinguda Diagonal, 537. Metro station: Maria Cristina (L3)
Get 'Hook'-ed
Wake up your inner kid and make your way to Barcelona's Hook Bar, where a variety of memorabilia emulating all things Peter Pan awaits you! Be sure to take a snapshot with the life-size Captain Hook while you lose yourself amidst figurine incarnations of the mischievous youngster in green. We recommend indulging in the 'Dead Man's Chest' or 'Peter's San Francisco' cocktails served by waiters dressed as pirates (of course). A quirky alternative to this Disney classic, yet one that is sure to be memorable! Yarr…
Where can I find it: Carrer de Ample, 35. Metro station: Jaume I (L4)