The cultural hub that is the Catalan capital may not offer as much as some cities in the way of dressing up, parading around the streets demanding candy or carving pumpkins, but spending Halloween in Barcelona gives visitors the chance to experience a celebration that's equally as intriguing: La Castanyada.
In Catalonia, 1st November is a time when families come together to celebrate All Saints Day in honour of loved ones lost. Aside from the spooky costumes and fake spiders' webs to be found in the bars of Las Ramblas, the run-up to this day sees the streets of Barcelona play host to vendors selling some delicious delicacies. Plus, on the eve of 'Todos los Santos' itself, you'll find some pretty neat traditions giving your average Halloween a run for its money. But don't worry if you already have your Nosferatu cape at the ready, there's plenty of Jack-o-lantern celebrations to sink your fangs into as well!
Roasted Chestnuts and Sweet Treats
Castanyes (roasted chestnuts) are perhaps the most famous food to be found in Barcelona around the time of All Saints Day. They are traditionally eaten on the night before and the day of the Castanyada, but can be bought beforehand from many street vendors who have set up little stalls across Gaudí's city during late October. Known as Castanyers and Castanyeres, these vendors roast the chestnuts on charcoal grills, and serve them hot and wrapped in newspaper, ready to warm you up as the weather in Barcelona begins to turn chilly.
Also on the menu are panellets. Best described as small almond-flavored balls covered in pine nuts, these mini sweets are a must-try for those wishing to dive into the Catalan culture! Rest assured, if pine nuts are not for you, there are plenty of alternative panellets including those with coconut, lemon and chocolate flavors. These bite-size snacks can be best found at the local bakeries. During the Castanyada in Barcelona (or Castañada in Spanish), be sure to try out the boniatos (sweet potatoes), also on sale from street vendors across the city. Not only offering a healthy alternative to a sugar overdose, these orange delights are sure to warm you up from the inside out. Most of the foods above are typically washed down with a sweet Muscatel wine, traditionally served in porrons: a glass pitcher with a stem to pour the wine straight into your mouth.
The History of La Castanyada
The tradition of eating roasted chestnuts and sweet potatoes stems from stories of the night before All Saints Day, when bells would ring into the small hours of the morning in commemoration of the deceased. Friends, relatives and neighbors would partake in the tiring task of ringing the bells and these foods were eaten for sustenance.
A Homey Affair
Most visitors who know and love the typically vibrant celebrations of Barcelona may expect the Catalan people to flock to the streets for a massive party. However, on All Saints Day most families make their way to the cemeteries to lay flowers, and afterwards they spend a quiet day at home with loved ones. If you are in Barcelona for this religious public holiday, why not visit the Cemetery of Poblenou? This resting place was the first modern cemetery in Barcelona and is filled with beautiful, historic statues.
Cook up a feast!
Fancy something different? Then how about learning how to whip up your very own autumn feast – Catalan style. This simple, sweet and traditional recipe gives you everything you need to make your own panellets. 
Ingredients:
1lb Almond flour (the base for the marzipan dough)

1 small Potato (to mix into the marzipan dough- another tradition!)

2 ½ cups Sugar (white granulated sugar is traditional, but you can use brown sugar if you prefer)

Eggs (which we will use in the dough, to bind the dough to toppings and to brush on as egg wash prior to baking) 

1 (lemon peel grated) Lemon zest (to add to the dough)

Toppings (go wild; you can use pine- nuts, finely chopped almonds, coconut shreddings, cocoa powder… the list goes on!)
Steps to make and create: 
Quick tip: If you have a food processor, this will make things a lot easier!
In a large mixing bowl, stir together sugar, eggs and lemon zest until combined. 

Add in mash potato, and combine. 

Add the almond flour, continue to stir the mixture until all combined.

Shape the mixture (dough) into a large disk, cover and leave it for a few hours until chilled. 

Roll out the dough into evenly sized balls, and dip each ball into a bowl of whisked egg, dip into a second bowl of whichever topping you prefer. Make sure the entire ball is covered, use your hands where necessary to press the nuts into the dough. 

Brush the Panellets with egg wash after placing them on a parchment- covered baking tray. 

Bake these Panellets for 10 minutes until the top of them are nice and golden, keep an eye on these so they don't burn!

Serve and enjoy! The Panellets last up to a week, that's if you can resist eating them for that long! 
Halloween in Barcelona 2021

If you're not willing to give up your Halloween traditions altogether while visiting the city, then don't worry, there are several things you can do to celebrate the famous Pagan holiday Barcelona-style: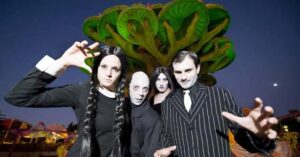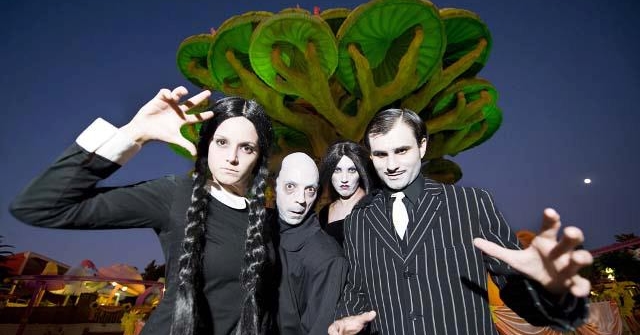 A frightening Halloween: Why not spend the night at the 'La Isla Maldita' (cursed island), the 'Halloween Kingdom' or getting lost in one of the many 'Pasajes del Terror' at Spain's most visited theme park, PortAventura? For a full line-up of events during the Halloween celebrations, check out the PortAventura website.
Nightmarish Films: Experience the thrill of a Halloween movie marathon by Sagrada Familia with the return of Phenomena's Halloween special, this year with a 'double surprise'!
A wicked evening: For a comedic and twisted take on your Halloween celebrations, why not make your way to La Posada Maldita to enjoy a fun-filled night of laughter and a scary meal? This is one of Barcelona's most famous theme bars, so you are sure to be in for a memorable night out here!
Tours of terror: Fancy something different? Want to discover the dark secrets of Barcelona's murky past? Then a night time walking tour is the thing for you! Runnerbean Tours offer a great 'The dark past night walking tours' where chilling tales of medieval tortures, dingy dungeons and creepy cemeteries are shared. Alternatively, ICONO run a great 'Ghost Walking Tour' where spine tingling accounts of phantoms, witchcraft and exorcisms are revealed.
So, make the most out of your autumn break in Barcelona and get involved with some seasonal activities!