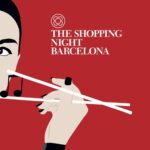 Thursday the 19th of December sees the much anticipated arrival of the 10th edition of the Barcelona Shopping Night – an incredibly magical retail experience hosted by the iconic Passeig de Gràcia street, and inspired by Vogue's International Fashion Night Out.
For one night only, some of Barcelona's best and biggest retailers will open their doors until the early hours of the morning, tempting customers with festive deals on their goods. Despite usually taking place in November, 2019 will see the Barcelona Shopping Night take place in December, during the run up to Christmas.
Show Stopping Shopping
Starting at 8pm, the Passeig de Gràcia shopping street will be filled with customers, Barcelona shutting the avenue and its adjoining roads to cars only for tonight! As well as some brilliant discounts, many DJs also perform throughout the event, while stores have longer opening hours, not shutting until 1am…
The likes of Mango and Zara, as well as designer stores such as Burberry, Timberland and more top names will be getting involved in this homage to the world of shopping.
What's on Offer
This year's events revolves around four main themes: shopping, music, gastronomy and culture, and a major feature of this year's event is the addition of music!
Seven stages will be set up along the intersections between Passeig de Gràcia with Rosselló, Provença, Mallorca, València, Aragó, Consell de Cent, Diputació and Gran Via.
As shoppers walk along, they will find themselves taken on a musical journey through the ages, starting from the 1920s to the present day: film soundtracks, the Cotton Club, the fifties, Latin rhythms, party music, pop rock and dance music with live performances, DJs and a giant graffiti wall. There will also be a variety of activities on offer which relate to each chosen musical era!
Hotels and restaurants will also play a big part in this year's event, offering a festive tasting plate for just €7 which includes a beer and a range of festive gastronomic creations created by some of the city's most renowned chefs.
Get into the Christmas Swing!
Barcelona's Shopping Night is a great chance to get stuck into some Christmas shopping as there are endless products on offer, and the brilliant light displays along with exciting hustle and bustle will get you in that festive mood in no time.
Don't forget to pick up a bargain as many of the stores offer great discounts just for one night!