If you're scanning the web in search of a cheap night out in Barcelona then look no further! There's no need to break the bank as cheap and cheerful bars are easy to come by here, you just need to know where to find them! Whether you're a beer monster or a cocktail lover, we've got you covered in our guide to cheap bars in Barcelona.
1. L'Ovella Negra
Directly translated as "The Black Sheep" in English, this barn-style bar is ideally located just off Las Ramblas in the heart of Barcelona. Grab a beer at a bargain-price and dabble in a game of foosball amongst the high wood ceilings and biergarten-style tables.
Tip:  Pick up 1/2 litre of San Miguel for just 3€!
Location: C/ de les Sitges, 5
2. Bobby Gin
His name may indicate a clue, but to know what the cocktail bar Bobby Gin is, there is no other option but to try it. Located in the colorful center of the district of Grácia, this place has an interesting design, rather minimalist, but with a very pleasant atmosphere. In Bobby Gin you can taste design dishes such as foie gras and apple, Iberian prey, hummus and even salmon with gin and tonic. They serve cocktails of all kinds and although they have their specialty, gin and tonics. The price of the cocktail starts at €10 and goes up depending on the tonic or gin that is ordered, as well as the other products that you want to add, like strawberries, cucumber, lemon, cinnamon, licorice, etc. etc.
In short, it can be said that it is a place for lovers of Gin Tonic and cocktails, with a service that meets the needs of each client.
Location: C/ de Francisco Giner, 47
3. Espit Chupitos
If cheap shots sound like the perfect way to kick-start your evening, we recommend Espit Chupitos in the Eixample neighbourhood of Barcelona. With over 200 shots (chupitos) costing a mere 2€, this is the mother of all cheap bars in Barcelona. The fun doesn't end there though, each shot comes with its own "gimmick", often including fire and flames on the bar!
Tip: We recommend the marshmallow shot!
Location: C/ d'Aribau, 77 and Plaça Colón, 8
4. Summum Night Bar
This lively bar is located just a short walk from Passeig de Gràcia and Plaça Catalunya. Popular with international students and travellers alike, Summum is the ideal place to meet some English-speaking friends! Its lively atmosphere and cheap drinks are what makes it the perfect pre-club bar in Barcelona.
Tip: Grab a shot for just 1€!
Location: C/ Aribau, 66
5. Rosa del Raval
Fancy yourself as a cocktail connoisseur? Grab a delicious margarita or mojito at Rosa del Raval for just 3.50€ – bargain! And don't worry if all those cocktails leave you feeling peckish, Rosa also serve up some of the best Mexican food in town!
Tip: Arrive before 11pm and get 2 for 1 mojitos!
Location: C/ dels Àngels, 6
 6. Ambar
Cheap drinks, friendly staff and fancy décor is what Ambar is all about. This cosy locale is located within the vibrant and historic El Raval area of Barcelona. While a cocktail at Ambar will cost you around 6€, you can grab a beer or a glass of wine for a mere 2,50€.
Tip: We recommend their crafted beer!
Location: C/ de Sant Pau, 77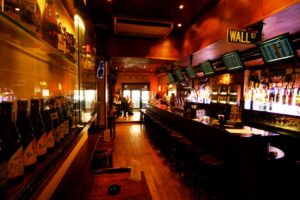 7. Dow Jones
Dow Jones is perhaps the most unique cheap bar in Barcelona. Drinks run on a stock market basis here meaning the price of your favourite drink will fluctuate throughout the night. If a drink is in demand it's more expensive, but if you're willing to try anything you can grab a drink for around 2€.
Tip: Wait for the stock market to "crash" to order in even cheaper drinks!
Location: C/ del Bruc, 97
8. Bar Manchester
There are two Bar Manchesters in Barcelona, both dimly-lit and equally as cosy. This place is a firm favourite amongst students from all over the world. You can expect to hear tunes from the most famous Manchester bands including Joy Division and The Smiths – hence the name Bar Manchester! If you're looking for a cheap bar in Barcelona that serves tasty drinks and plays good music, Bar Manchester is your go-to place!
Tip: Arrive between 19:00 and 22:00 for 1,50€ beers and happy hour!
Location: C/ Milans, 5 and C/ Valdonzella, 40
Do you have another favourite bar to grab a cheap drink in Barcelona? Let us know in the comments below!