We've all seen the film, but have you ever been to a real Night at the Museum? On Saturday 13th of May, Barcelona will take part in its annual Nit dels Museus, inviting museums in Barcelona and its surrounding areas to open their doors to host a special night of exhibitions, concerts, performances, workshops, guided tours, and activities… all for free!
Related article: Free Museums in Barcelona 
What is the Night of the Museums?
This event comes before International Museum Day, this year on the 13th of May, which was founded in 1977 to raise public awareness of the importance of museums in societal development.
The Night of the Museums is celebrated in over 120 countries around the world, and in Catalonia the areas of Barcelona, l'Hospitalet, Badalona, Cornellà, Esplugues, Santa Coloma de Gramenet, Sant Adrià and Sant Joan Despí, will be taking part.
Who is taking part?
There are well over 100 museums in Barcelona dedicated to art, design, fashion, archaeology, music, and even cannabis! We recommend planning your route so you can do the maximum number of museums in the time, and remember some museums are on the other side of the city to each other!
Be expected to queue to enter the museums as this event is super popular with both locals and tourists. Many museums also open up their temporary exhibitions this night, for example the CCCB— Contemporary Culture Centre of Barcelona – and CaixaForum. Take into account that some of the more well-known places like the Picasso Museum or the MACBA will issue tickets beforehand. Check out the official museum websites for more information before you go.
Where should I go?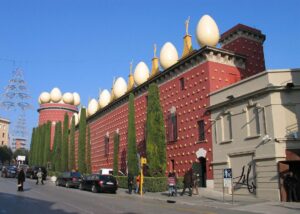 The Night of the Museums is also a great chance to explore some of the lesser-known museums in Barcelona, most of which will hold workshops and organised talks that will slowly ease you into perhaps more niche subjects. Why not head out of town and immerse yourself in all things Salvador Dalí at The Dalí Theatre- Museum in Figueres?
The Night of the Museums is a totally free event in the city, and one you definitely shouldn't miss out on. For more information, visit the official La Nit dels Museus website.