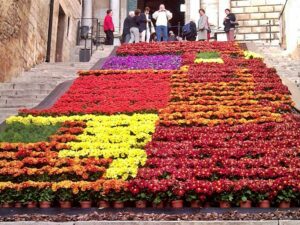 The petite and charming city of Girona is photogenic at any of time of the year, but wait 'til you visit during its annual festival, the Temps de Flors. Each spring, during the second week of May, people flock from all over Spain to Girona's Barri Vell neighbourhood to admire its colourful streets lined with spectacular floral displays.
Monuments and courtyards are transformed into remarkable ornamental gardens, so you can enjoy the wonderful ensemble of vibrant colours and glorious aromas which perfectly accompany the fascinating cultural and historical heritage of this city.
This unique way to explore the city often includes free entry and access to sights that would normally be closed to the public. And what's more, the Girona Temps de Flors can be enjoyed all for free!
The Festival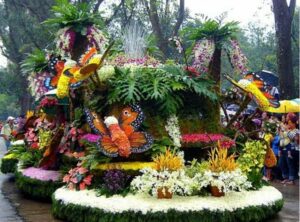 This year, from the 13th-21st May, Girona's internationally famous flower festival will be celebrating its 68th anniversary, after its many years of success and unbelievable creativity. There will be over 100 individual flower and plant displays, with the most impressive exhibitions held at the Cathedral Steps, the Arab baths, Saint Nicholas' Chapel and Les Sarraïnes.
In addition to this, there will be several other exciting events taking place throughout the city in name of the festival, such as the Gastroflors. Each year, a range of restaurants in the city offer themed menus with a floral twist where certain flowers will feature as an ingredient in their dishes; so let your taste buds 'blossom' by trying something new!
There will also be flower, photography and film competitions and plenty of other things worth getting involved in.
Girona: the City and the Barri Vell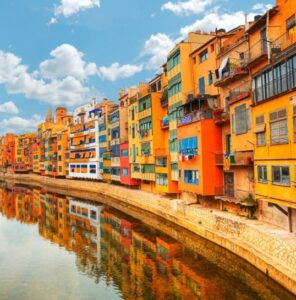 Girona is the ideal spot if you're looking to escape the hustle and bustle of the Catalan capital, especially with it being just 100km from Barcelona. With all the charm and qualities of a larger city, thanks to its cultural richness and the myriad of things to do here, it would be foolish not to make time for this glorious medieval city during your visit to Barcelona.
The Temps de Flors only enhances the beauty of the quaint and quirky Barri Vell, Girona's old quarter. Its rustic and French vibe has a certain 'je ne sais quoi' with its riverside flanked by multicoloured houses and winding alleyways that open out onto enchanting squares.
It truly is one of the most picturesque areas of the city, especially when covered with an exquisite selection of flowers.
Getting There
The best way to travel from Barcelona to Girona is from Passeig de Gràcia via Renfe trains. During Temps de Flors, the train company Renfe usually offers a discount on return tickets; last year it was 35% so it's well worth downloading a voucher which can be found online.
Check timetables online beforehand for train times. Trains to Girona usually run every 20-30 minutes.
Top Tips
Avoid heading to the festival at the weekend if possible. The festival is extremely popular with both locals and tourists and towards the end of the week, the narrow streets of the Barri Vell are often heaving which can be particularly unpleasant, especially with the warm weather.
Be prepared to queue, especially for the most popular displays. Restaurants also get very crowded at lunchtime with queues of up to an hour just to get into some of the most central restaurants.
If you're able to, stay overnight in Girona to avoid both an early start/late finish, and travelling twice in one day. You also want to make the most of the displays and see them at night, as the exhibits on the River Onyar are at their best at this time.
Pick up a free A3-sized map at one of the participating venues so you can get your bearings and make sure not to miss any other of Girona's hotspots.
This year, Girona is also holding its A Cappella Festival at the same time as The Temps de Flors. Why not enjoy the flower displays with a gorgeous choral symphony behind you?