With warm beach weather, budding trees lining Las Ramblas and plenty of outdoor tours and daytrips for those looking to explore the city, spring is the ideal time to visit Barcelona. What's more, the Catalan capital's event calendar is packed to bursting with fantastic festivals and events this season, meaning if you are lucky enough to find yourself in Barcelona this spring, you will be sure to find a concert, fair, activity or traditional celebration that's right up your street.
Take a look at our top 10 Spring events in Barcelona!
Traditional Fun
1. Semana Santa – One of the most notable events on the Barcelona spring calendar is undoubtedly Easter week! Also known as 'Semana Santa' in Spain, this 8-day celebration kicks off on 5th April and runs until 12th April with plenty of colourful parades, processions and sweet treats to be found around every corner.  A must-see procession is the "Virgen de la Macarena", which kicks off on Good Friday at 4pm at the Església de Sant Agustí in El Raval, makes its way through the surrounding areas and finishes at the Barcelona Cathedral. Another notable parade is "El Paso de la Borriquita" which takes place on Palm Sunday in the Ciutat Vella area, commemorating the arrival of Jesus in Jerusalem on donkey.

2. La Feria de Abril in Barcelona – Spring in Barcelona would not be complete without the Feria de Abril, which gives visitors to the city a true taste of Seville! This Barcelona version of the popular Andalusian festival reaches its 49th edition this year, taking place in the city's Parc del Fòrum. Don't miss your chance to catch the professional 'Sevillana' flamenco dancers in action! Or pop into one of the 'casetas' (little houses), each one offering a different delectable treat. There's also an amusement park for the youngsters making the Feria de Abril a top idea for families visiting Barcelona this spring.
3. La Diada de Sant Jordi – Barcelona's own version of Valentine's Day is La Diada de Sant Jordi, also known as "The Lovers Day". This romantic event takes place on April 23rd when Sant Jordi, the patron saint of Catalonia, is honored. If you find yourself in Barcelona during late April, you are in for a treat as the streets are adorned with Catalan flags, as well as a whole host of rose and book stalls ready for loved ones to exchange these commemorative gifts.
Musical Overload!
4. Primavera Sound Festival – As the weather in the Catalan capital begins to warm up in late May, the Barcelona event calendar becomes packed to the brim with exciting festivals and concerts. One of the first big music festivals of the year will be the Primavera Sound Festival, running from the 4th-7th June, and full of awesome tunes, cool bands and an atmosphere like no other! For more information and tickets, see the official website of Primavera sound Festival.
5. Top Concerts Coming Your Way – Spring this year promises to be an explosive month of music in Barcelona with the likes of Maluma, Nick Cave, and Dua Lipa all taking to the stage. Known for their awesome performances there is a great hype surrounding these concerts and ticket holders are no doubt in for a night they won't forget. Find out more about where to head for the best live music and concerts here.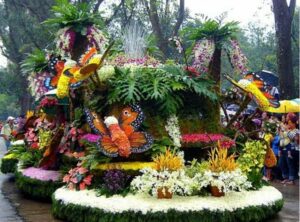 6. Festivals of Flowers – If you are in search of colourful day trip from Barcelona then be sure to head to Girona, just outside Barcelona, for the annual Flower Festival, taking place from 9th – 17th May. The region is brought to life with colourful flowers of all shapes and sizes decorating Girona! Free admission is also offered to all parks and gardens during this festival. Visit the Renfe website for train schedules from Barcelona to Girona.
Adrenaline Rush, Anyone?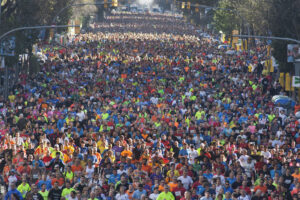 7. El Corte Inglés 11k Run – The most popular run in Barcelona, this is a great way for you sporty types out there to see the city in a somewhat unconventional way. With highlights including Plaça Catalunya and Montjuïc this is one race not to miss. The event takes place on 5th April and more information is available on the race website.
8. Spanish Formula One Grand Prix – From the 8th-10th May, the annual Formula One Race is coming to Barcelona, and is sure to get your blood pumping! Catch these speed junkies as they fly around the track at the Circuit de Catalunya, Montmeló. For more information visit the F1 website. 
Time for a Nibble!
9. Eat Street Food Festival – This delicious event hits Barcelona from the 14th-15th of March and promises to play host to some incredible international cuisine. A celebration of global street food, you'll be able to find tasty treats ranging from local produce to far flung dishes from the four corners of the world. Make sure you come hungry, as this is one foodie event you won't want to miss! Read more here.
Night at the Museum
10. La Nit dels Museus – The Night of the Museums in Barcelona is part of the wider initiative across Europe called The European Night of the Museums. Enter some of Barcelona's top museums and tourist attractions for free between 7pm and 1am on 16th May 2019. Museums involved include the Picasso Museum, and La Pedrera.
Apartments for your Spring Break in Barcelona

Whether you make the choice to head to the Catalan capital for a weekend escape or for the entire spring season, checking out at least one of these Barcelona spring events is a must! Rock out to your favorite bands, celebrate Easter in Barcelona or enjoy one of the thrilling sporting events, whatever you do, be sure to stay in one of the many centrally located Ciutat Vella or Ramblas apartments in Barcelona right in the heart of the city, ensuring that you won't miss a beat of any of these fantastic spring events in Barcelona…