We have talked you through the best ski resorts in Barcelona and given you all the information you need to know as an expert skier. But for those who don't love to ski, and want to know where to go to purely enjoy the snow, we have all the best advice for you.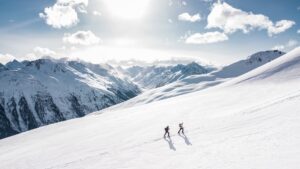 Barcelona really is the perfect location, close to the sea, the mountains, and even snow during the colder months. You can enjoy the sunshine on the shores of the Mediterranean sea or spend your day on the slopes at an altitude of over 2,000 metres. We have picked for you our favourite five places to enjoy snow, in close proximity to Barcelona. 
Vallter 2000 
Just a two hour drive from Barcelona, is Vallter. It has a base of almost 2,000 metres high and about 18.75km of skiable terrain. It is a beautiful area of Catalonia; Ripollès, just a few kilometers from the river Ter and the Capçaleres del Ter and del Freser Natural Park.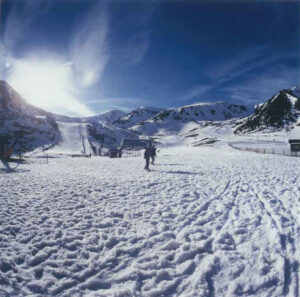 Vallter 2000 is characterised by a large recreational park where those skiers, and those non- skiers can enjoy a fun toboggan run. There's also a mini club called L'Esquirol, which is a snow garden especially for younger ones. There are various activities available for children here as well as introductory ski courses. 
Vallter is a wonderful place to explore and make the most of the snow for those who love to ski and those who don't. 
Masella 
This is an enormous resort less than two hours from Barcelona. It is considered one of the most stunning locations in Barcelona and has 74km of skiable land. 
In Masella you can actually ski at night, unlike most resorts, making this one of the largest attractions in Catalonia. It has lights illuminating 13 main slopes of low and medium levels, creating an unforgettable experience. 
For those not into skiing, Masella has plenty more to offer. They host a huge range of incredible bars, restaurants and nightclubs, but also a load of different snow sports to try. They offer snowshoeing where hikers clamber through the crystalline landscapes towards mountains or into the forest. There's always sledging and tubbing available which is a huge amount of fun! They even have snowmobiles and all you need is a driving licence to get speeding through the snowy forests. They also offer segways, who's ever seen a segway go through snow? Sounds incredible. 
Vall de Núria 
Just under 3 hours driving from Barcelona is the Vall de Núria. In Vall de Núria you can admire both its incredible landscape and rack railway. This takes you to a drop of over 1,000 metres, allowing you to feel as small as an atom flying over the extensive snowy slopes.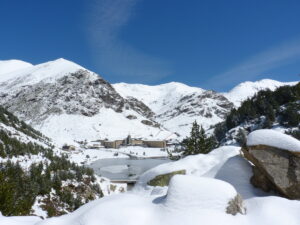 There are 7.6km of slopes in Vall de Núria, surrounded by 3,000 metre high peaks. But the real attractions here are the snow- tubbing, sledding and snowshoeing activities available. You can even go ice scuba diving in the lake, if that's something you're into. 
There is a lot of history to be discovered in Vall de Núria, it's a very important spiritual place of pilgrimage, being the home of Sant Giles. You can visit his chapel, dating back to the 16th century, and write your wishes on a piece of paper at the shrine. 
La Molina 
La Molina is only around two hours from Barcelona, and is situated close to Masella. This has spectacular views of Cerdanya, with its slopes combined with the snow capped mountains. It has a snow cover system covering 60% of the skiable area. But La Molina has much more to offer than just skiing. 
You can go tubbing, sledging, to the fun park, the panoramic gondola ride, trees adventure park or even segwaying. They also offer snowmobile hire, nordic walking, spas and bowling activities. 
Port Del Comte 
Again, only a two hour journey from Barcelona, is the Port Del Comte. It is usually less crowded here, and it is surrounded by a beautiful black pine forest, enhancing its charm. It is the perfect place for a one-day ski trip, due to its close proximity to the main Catalan towns. 
There's 40km of skiable land distributed between two different areas, but for those who don't ski, there's an incredible Adventure park. They provide inflatable sledges, acrobatic flips, zip lines, nets and logs. There's also snowshoeing available for those nature lovers. 
If you're still reading, and a trip to the alps is something you're drawn to, why not make this part of your trip in Barcelona? A week away in the city gives you plenty of time to see the best sights of Barcelona, relax in the sun and make the most of the nearby snow to enjoy. Check out our deals on apartments in Barcelona throughout the winter season!