We all know that if you're after a bargain, the January winter sales are the best time of year to grab them. With some Christmas money at the ready, you're armed to take on the challenge of finding the best deals possible to be the envy of your family and friends. Barcelona is renowned as a world fashion capital, thanks to its large variety of fashion districts, such as the iconic Passeig de Gràcia, and its plethora of shopping malls, namely Las Arenas. The city offers both high-end, haute couture, as well as the more affordable offerings to suit all needs. Sales season in Barcelona doesn't only involve the internationally recognisable brands – make sure to pay a visit to the local boutiques in areas such as Gòtic, Raval and Gràcia to find some sustainable steals too.
When to go Winter Sale Shopping in Barcelona
Despite the fact that most of the shops are not allowed to open in Spain, the Generalitat de Catalunya every year publishes a list of 8 Sundays or public holidays on which the shops are allowed to open. Winter sales commence on the 7th of January and will last until the end of February, however there is no official start date for all shops, so it's best to look at individual stores to see when they will be releasing their best discounts.
On a normal year there are often queues out of the front doors of the high street shops to be first in for the best deals, and with the Covid situation we advise that the queues could be even longer this year. So, get your most comfortable trainers on and be ready to battle the rest of Barcelona for those bargains!
The best bargain locations in Barcelona
Zara
One of the most anticipated sales of the year, and with over half a dozen stores in Barcelona you have the pick of the bunch to get the best deals. Their winter sales start on the 7th of January in store, but online from the 1st, lasting until the end of March. Expect some fantastic discounts here, between 20-50% off in the first sales, and all the way up to 70% off in the second wave of sales from the 1st of March.
Stradivarius
Owned by the same parent company as Zara, the trendy Stradivarius starts their sales on the same date – 7th of January in stores and 1st online. Expect some more great sales here, with discounts going up to 50% off retail price. Treat yourself to a new, great pair of jeans!
Massimo Dutti
This Spanish owned company has been called 'Zara's sophisticated older sister', and for good reason! Offering a wide range of clothes for both men and women, Massimo Dutti's sale will last 2 months from January 7th to March 7th, with discounts between 20% and 40%.
H&M
If you thought H&M had some great deals on a normal day, just wait until you hear that they're offering up to a whopping 70% off on their items in their winter sales! Starting online from New Year's Day, and in stores physically from January 3rd, this January sale is not one to miss.
Mango
The Winter Sales in 2023 at Mango will be one of their best yet. Starting on the 3rd of January and lasting all the way until the 31st of March, discounts in Mango stores will go all the way up to half price. If you've had your eye on that gorgeous bag for a while, now's the time to strike!
Corte Inglés
No January sale trip in Barcelona would be complete without a browse around the discounts of El Corte Inglés. Arguably offering some of the best sales in the whole of Spain, El Corte Inglés will be offering a large majority of its discounts at 50% off, and given the wide range of fashion, gadgets, homeware and household appliances, you will see some enormous savings here!
Best Shopping Neighbourhoods
As we mentioned previously, it's not just the big name-brand stores that will be partaking in the January sales. If you're wanting to shop locally and support independent businesses in Barcelona, heading into the different neighbourhoods is the best way to go. A lot of the independent stores do not list their sales online, so why not take a stroll around the neighbourhoods to discover some hidden surprises that won't break the bank.
El Born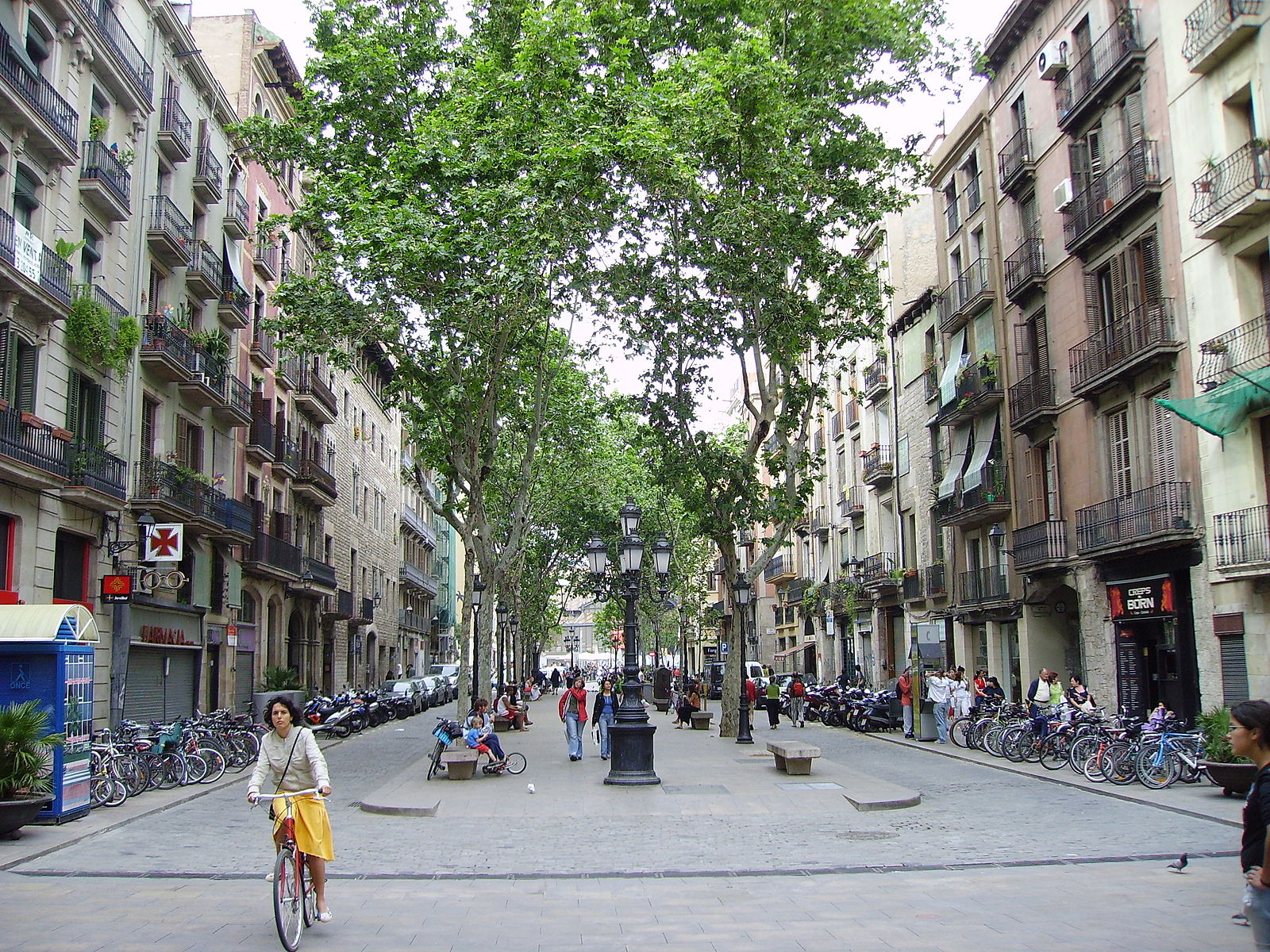 The perfect place to find indie-alternative clothes that are sure to make you stand out from the crowd, El Born neighbourhood is full of quirky, independent stores to browse.
We recommend: On Land, Loisada Vintage, Cortana.
El Gótico
The Gothic Quarter in Barcelona is not just a tourist haven for must-see sights, but also a charming maze of narrow streets that are jam packed with the best independent stores that the city has to offer.
We Recommend: Handmade Barcelona, La Basilica Galeria Perfume, La Veintinueve.
Gràcia
Gràcia is known as the indie neighbourhood of Barcelona, unsurprisingly given its excellent offering of independent boutique stores, and even quirkier bars and restaurants to go alongside. What's a shopping trip without sitting down for a coffee in between?
We Recommend: Ladloquita, Cuervo Cobblerblack Bird, GreenLifestyle.
The Best Shopping Centres in Town
Aside from the iconic shopping streets and neighbourhoods of Barcelona, another great way to shop until you drop is by visiting one of the many shopping centres in the city. There are many different shopping centres in Barcelona, but to narrow your search down, these are our top three favourites.
Las Arenas
Built in a former bull ring, this stunning shopping centre is found next to Plaça Espanya and is one of the largest in Barcelona. Spread over six floors with 116 shops, Las Arenas even has a cinema and rooftop restaurants that enjoy a 360° view over the city.
Diagonal Mar
Located in the district of Sant Martí, this shopping centre is popular with tourists and locals alike thanks to its impressive selection of over 200 shops, restaurants, and a cinema and bowling complex.
Maremagnum
The best part of this shopping centre in Barcelona, is that unlike the majority of others stays open on Sundays! Located on Port Vell next to the Aquarium, with stunning views over the sea and to Montjuïc, this fantastic centre has two floors of shops and some beautiful bars and restaurants with the view alongside.
Online shopping savings
It's possible you may prefer to ditch the queues and the crowds in person this year, instead opting for an online peruse from the comfort of your own sofa. No judgements here! There's still an excellent online sales offering this year, look to ASOS, Lookfantastic, and Net-a-Porter for some fabulous savings beginning on the 3rd of January that could save you a whopping 50% off items. If it's half price, that means we can buy double the amount, right?!
If you're feeling enticed by the winter sales in Barcelona in 2023, but aren't currently in the Catalan Capital, why not make a trip to Barcelona to see what it's all about? Head to AB Apartment Barcelona's website to find a fantastic apartment at an even better price, so you can really make the most of the sales and all that our beautiful city has to offer.