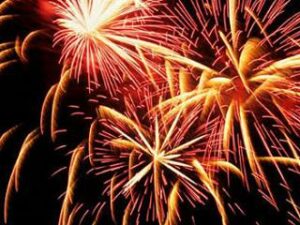 Barcelona is one of the top destinations in Europe for festivals and celebrations, so it stands to reason that New Year's Eve is one of the best times to visit the city. From themed parties at some of Barcelona's chicest clubs to a memorable night at the Montjuïc Magic Fountain, there is plenty to see and do as you welcome 2023 in the Catalan capital.
Celebrating New Year's Eve in Barcelona allows you to delve into the local traditions that go along with bidding farewell to the year gone by. And this year promises to be Catalonia's best party yet, with extra events added to the agenda and a huge budget set aside to ensure that the new year receives the biggest welcome yet!
Bringing in 2023, Barcelona style…
In Spain, it is customary to wear red underwear on New Year's Eve and to eat 12 grapes – one each time the clock chimes – as you count down to midnight. Legend holds that those who manage to do this will have a splendid year to come, filled with good luck. The grape-munching is actually harder than it sounds, so be sure to give it a whirl before December 31st!
What to Do on New Year's Eve 2022 in Barcelona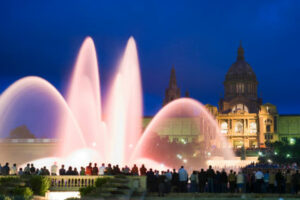 The Magic Fountain of Montjuïc: For those visiting Barcelona, we recommend heading to Plaça d'Espanya where the 'big event' will be held this year. From 21:30 onwards an exciting countdown will take place with musical performances and much more going on. And the new year will rung in with an awesome fireworks displays along with the amazing lights and twirling water of the fountain show. This is sure to be an unforgettable way of greeting 2023!
Poble Espanyol: This Spanish village-open-air museum at Montjuïc turns into a huge party that spreads across three indoor venues with live concerts and plenty in the way of drinks! Entry costs just 40€ and includes 4 drinks, grapes and novelties!
Torre Agbar: Watch as this famous Barcelona landmark brightens up the night with a colourful light show.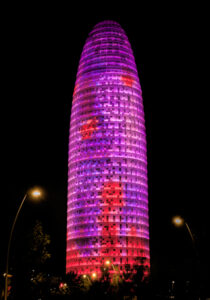 Plaça Catalunya: As is 'the norm' in any big city, many people will gather in the centre of Barcelona to ring in the New Year. Plaça Catalunya will fill up as of visitors and locals get ready to say hello to 2023. What's more, with Las Ramblas just a few steps away, options for your post-countdown party include plenty of bars, pubs, and clubs where you can dance the night away.
Sala Razzmatazz: Just one of the many top clubs offering some fantastic New Year's Eve celebrations, here you can enjoy a spectacular fiesta including 2 long drinks, champagne, a t-shirt, grapes and a party bag. Check out the Razzmatazz website for more info.
Tablao de Carmen: This top flamenco club in Barcelona is ideal for those looking for a truly Spanish New Year's Eve experience. Enjoy dinner and a show as you await 2023 in one of Barcelona's most famous flamenco settings.
Barcelona Beach Parties: Barcelona's beaches are another great option for your New Year's Eve. Even in December, Barcelona's favorable weather allows party-goers to bid farewell to the decade by the shore and party the night away at one of the many bars, clubs and restaurants that open up onto the sand.
Cool Clubs for New Year's Eve in Barcelona
After ringing in the New Year, why not make your way to one of the many clubs lining the beachfront, where Barcelona's beautiful people gather and celebrate till the wee hours of the morning. Some of the top spots to check out include Shôko, Opium Mar, Pacha and Catwalk, all hosting themed events with some of the hottest tunes in Barcelona, ensuring that New Year's Eve 2022 in Barcelona is one you surely won't forget anytime soon.