Barcelona is one of the most popular destinations in the world for people coming to study. And for good reason! With beaches, nightlife, and a hot, Mediterranean climate, it's a destination that truly has it all.
Many Erasmus, Master, and MBA students choose Barcelona as part of their studies, because many of Spain's most prestigious universities can be found here. Whether it's for one semester, a full year, or even a full degree, your time spent in Barcelona is sure to be unforgettable.
Many students choose to rent an apartment for their time in the city, but it's hard to know where to begin with it all! If you're wondering how you can find good student housing in Barcelona, we've got you covered. Here's everything you need to know about renting a student apartment in Barcelona.
Which neighbourhood should I stay in?
Although Barcelona is a relatively compact city, its neighbourhoods each have their own unique personality and distinct character. We've written a separate blog on the best neighbourhoods for students, but here's a quick rundown of some of our recommendations!
Eixample
Barcelona's largest district, Eixample, is a great place for students to stay while studying in the city. It's centrally located, with lots to see and do, and is well connected to the rest of Barcelona.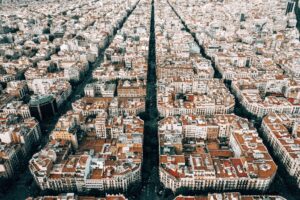 The apartments in Eixample are generally a bit larger than in the old town of the city, so perfect if you're planning on staying with a larger group.
Universities in Eixample: University of Barcelona, EAE Business School, EADA Business School, Toulouse Business School.
El Born
El Born is a bustling neighbourhood just 15 minutes' walk from the beach, and close to the high-street shops surrounding Plaça Catalunya and Passeig de Gràcia. It's also a stone's throw from the beautiful Parc de la Ciutadella, which is a great place to meet up with friends for a picnic!
Universities in El Born: although El born does not have any university campuses based in the neighbourhood, it is well connected to all the main universities of the city
Gothic Quarter
Another wonderful part of the Ciutat Vella (Old Town) of Barcelona is the Gothic Quarter neighbourhood. It is home to some of the city's oldest buildings; here you can find the Barcelona Cathedral, the Santa María del Pi, as well as the Plaça Sant Jaume, which is a popular place for students having drinks and tapas. Additionally, the famous square of Plaça Reial takes its home in Gothic, which is lined with bars, restaurants, and a few popular student nightclubs.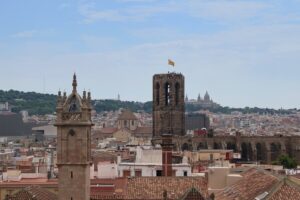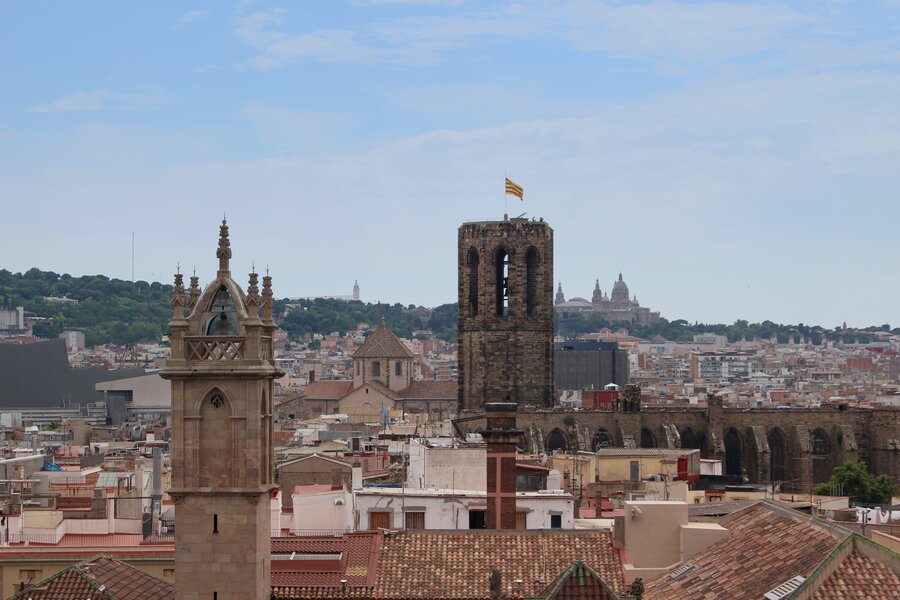 Universities in Gothic Quarter: Pompeu Fabra University, Elisava Design and Engineering University of Barcelona
Shared student rentals in Barcelona
Many students choose to rent a shared apartment in Barcelona, if living alone doesn't appeal, and it also means you can make friends with your flatmates too. This can also be a cheap option if the rental includes bills at no extra cost.
Nevertheless, renting your own apartment is still a very popular option with students in Barcelona. It means you have your own private space, and allows you to be much more independent, and have the freedom to have friends over without having to ask anyone first!
Practical advice and tips
View the apartment before you book it
If possible, we recommend looking round the apartment that you're interested in in person, as sometimes the images online can look different in person.
If viewing in person is impossible for you if you're coming from abroad, try to ask the agency if they can send a video of the apartment for a better look.
Spend some time investigating how much living in a city like Barcelona will cost. Once you have a good idea of your overall living cost, you can have a better idea of how much you can spend on rent.
Check the conditions in the rental contract
Don't just whiz through the small print when you get your contract! This is important to check, so that you're not signing anything that you don't truly agree to.
Ensure your apartment is in good working order
Although it can be easy to get distracted by an apartment's design and beautiful features such as a balcony, its vital to check that the installations and furniture are in good condition. The agency can then replace or repair anything necessary, and you won't be charged for it at the end of your stay.
Where to rent a student apartment
Another vital piece of advice we want to share with you is that you should always rent with a reliable and trusted agency. This way, you can have the peace of mind that you will be supported throughout your stay and won't fall foul to any nasty scams that can happen when renting through someone unreliable (uncommon but not impossible!).
At AB Apartment Barcelona, we have a wide range of student apartments available to rent all over the city. They come fully equipped with WiFi, bills included, and are fully furnished too. Our friendly team is happy to help you before, during and after your stay with us, and our blog shares many tips and tricks for having the best time possible in Barcelona. This means you can spend more time focussing on settling into the city and your studies, and less time sorting out your apartment!