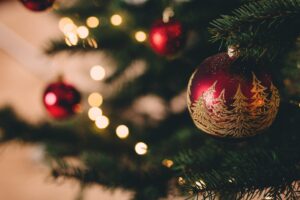 You have access to some of the most important aspects of Christmas from us; shopping, activities, and Christmas fairs. But now it's time to make your tummy's rumble, as we take you through the different traditional eats and treats you can find in Barcelona this winter.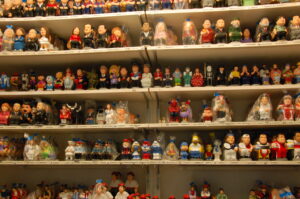 Barcelona is one of the best places to be at Christmas, you don't have to shiver your way through the day, you can experience blue skies, bright lights, awe- inspiring churches, and snigger at the cheeky caganer figures on sale in the form of whichever celebrity you choose! 
The food is just as good. In your average food supermarkets, you'll find that your aisles change from your standard snacks to your Christmas treats. Let's talk you through what you may expect to find. 
Starting savoury 
Escudella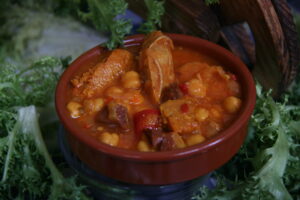 To start off with, we present to you a traditional Christmas warmer. Escudella is a type of stew containing everything from chicken, beef, pork backbone, ham bone's bouillon to veggies, carrots, potatoes and cabbage. This one is a hyper caloric dish, just to warn, but there's nothing wrong with that when it's cold outside!
This one will certainly keep you warm. 
Cochinillo Asado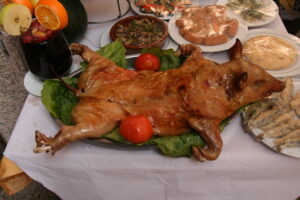 This technically translates to "Roast pig" which can be found almost everywhere in the country during Christmas. This is a roast suckling pig which is served with potatoes and a brown sauce. The pork is so tender that the pig falls apart as you dig in, making it a delicious Christmas meal. 
Sopa de galets
Sopa de Galets is essentially enormous pieces of pasta filled with veggies or meats in a warm soup. The soup itself is made with bouillon, making it a very comforting winter dish. This sopa de galets is usually eaten as part of your typical Christmas feast, as a starter course on the 25th of December.
Canelons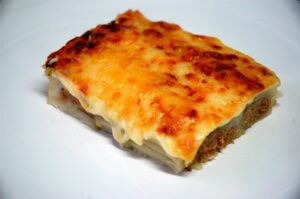 Canelons, or Cannelloni, is one of Catalonia's favourites, usually eaten on the day of Sant Esteve, celebrated on December 26th. This dish includes Cannelloni stuffed with either chicken or meat and bechamel sauce, the difference between this and your traditional Italian Cannelloni is that this dish does not use tomato sauce. 
Entremeses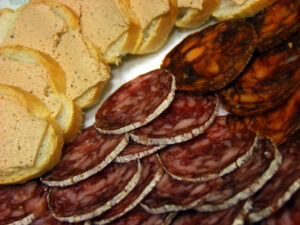 Entreméses are small dishes and plates served before and during the Christmas season and Christmas dinner. They can be used to entertain between dishes and to eliminate tastes from prior plates to clean the palate. 
The idea of Entremeses actually comes from Russia, and these dishes can include jamón, chorizo, morcilla (blood sausage) and manchego cheese. Dishes that can be shared and eaten. 
Onto the sweet treats 
Mantecados and Polvorones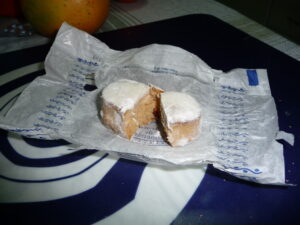 Mantecados and polvorones can be found all over supermarkets and department stores in the months leading up to Christmas. They are little baked and crumbly Christmas cookies served with "Moscatel". The difference between mantecados and polvorones is the shape, polvorones are oval and mantecados are round. They are both similar to shortbread, but just tend to crumble much more easily. 
These sweet treats are super popular throughout Catalonia, you'll find them everywhere! 
Crema Catalana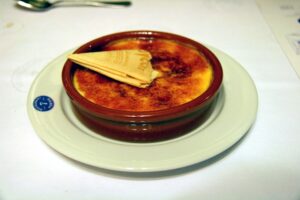 Crema Catalana is a dessert which is most similar to your classic French Crème brûlée, but it differs in its cooking method and subsequent consistency, and has a cinnamon and lemon zest flavour instead of your usual vanilla. The recipe includes the use of custard cream, over which sugar is poured and burnt to create a nice burnt crust. This one dates back in Catalan history to the 14th century. 
Turrón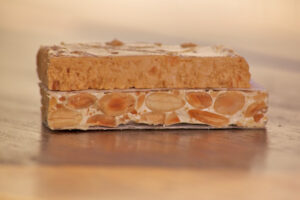 Turrón is one of the most commonly found Spanish Christmas snacks you can find around Barcelona, in any of your average supermarkets, and it dates back to the 16th century. It is enjoyed all over the Catalan capital during the holiday season as it is made from honey, sugar, egg white, and toasted almonds or other nuts. It is extremely tasty and almost tastes like a malteser chocolate, this is a must- try if you come across it in a shop. 
You can get completely different types of turrón; some hard and crunchy and some soft and chewy, it comes in many varieties! 
Neules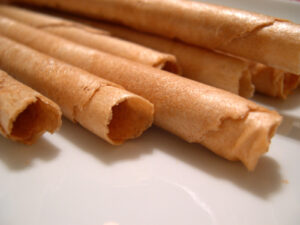 Neules are typical on Christmas for dipping in cava, these are a sort of light biscuit/ wafer, in the shape of a cylinder. Although familiar for finishing your Christmas day feast, these can be enjoyed at any time around Christmas, and you will often come across them in your local supermarkets. 
How about trying out one of these sweet treats for yourself, here's a quick and easy recipe on making Crema Catalana, you won't be disappointed! 
Ingredients for 6 people:
1L Whole milk
8 Egg yolks
100 Grams of sugar
20g Corn-starch
Orange and lemon rind for flavour
Sugar to caramelise on top
1 Cinnamon stick
Preparation:
Step 1: Crack the eggs and separate the yolk from the egg whites. Do not throw away the egg whites, take advantage of them to use for another Christmas recipe!
Step 2: In a saucepan, heat the milk with the lemon and orange rind and the cinnamon stick. In another bowl, mix the sugar and corn-starch, stirring well. Add the beaten yolks to just the sugar and corn- starch and allow the mixture to thicken.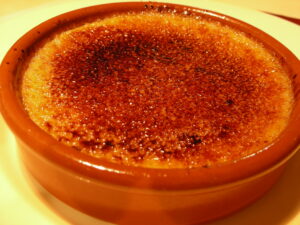 Step 3: When the milk begins to boil, put it through a strainer and then return it to heat. Add the mixture of egg yolks, sugar and corn- starch into the hot milk, and stir over medium heat. Be sure that the mixture does not stick to the pan by continuing to stir. Once the mixture begins to boil again, pour it into separate containers (if you have small crème brulée type dishes these will be perfect). 
Step 4: Allow the mixture to cool. Once cooled, sprinkle sugar over the top of the dishes filled with the Catalan crème. Then burn the sugar with a kitchen torch so that it caramelises. Serve once cooled and enjoy!