It might not be New York, but Barcelona is also a city that never sleeps. With countless things to do in the Catalan Capital, see some of its incredible landmarks like you've never seen them before- glistening in the moonlight.
Sagrada Familia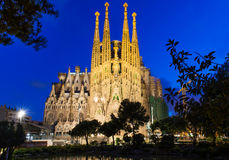 Antoni Gaudi's spectacular Sagrada Familia church is as breathtaking in the evening, as it is during the day. After the crowds have gone home, the space is a lot more peaceful, and you can walk around the basilica and properly admire its detail. The Sagrada Familia shuts at 20:00, so we recommend going earlier if you really want to enter and check out its interior, but we still think it's worth going back for in the evening to see the infamous creation all lit up.
Hop On Hop Off, Night Tour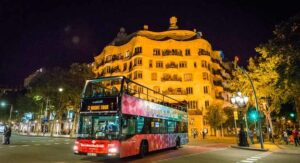 See all of Barcelona's landmarks in one night with a Hop On Hop Off bus tour at night. These trips are great for those that want to visit as much of the city as possible, but don't have a lot of time here. The night version of these tours will show you Barcelona illuminated by colour and light- a breathtaking sight that will make your holiday pictures just that little bit different from everyone else's. The absolute highlight of this bus trip is Montjuic's Magic Fountain and its incredible light and music show.
Picnic and Sunset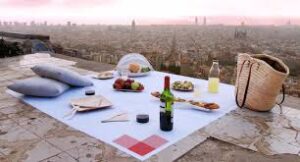 With dozens of green spaces and 5km of coastal beach, Barcelona is the number one picnic destination. One of our favourite places to go is the Bunkers del Carmel, old civil war bunkers in the outskirts of the city known for their spectacular 360 panoramic view of the Barcelona.
Museums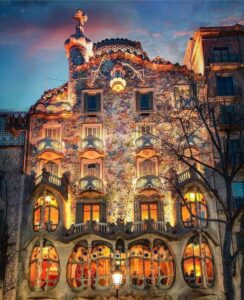 There are over 100 museums in Barcelona dedicated to art, design, fashion, archaeology, music, and even cannabis. The museums are often quieter in the evening, meaning that you can really take in the exhibitions and wander through their hallways at a more leisurely place. If you're lucky enough to be in the city in May, don't miss out on the Nit de Museu, where for one night only, Barcelona's museums will be open until 1am!
Neighbourhood Parties and Festivals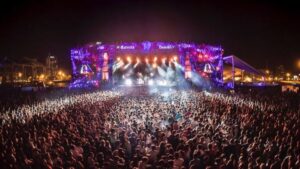 Over summer, there are countless parties and festivals in Barcelona, from small open air concerts and performances, to huge neighbourhood parties that go well into the night. Below are a few events you simply can't miss out on:
• Sónar Festival
• Cruilla Festival
• Grec Festival
• Music in the Park
• La Mercè
• Festa de Gràcia
Open Air Cinemas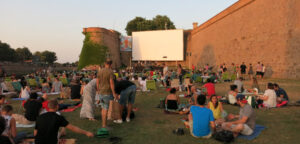 Enjoy your favourite blockbuster under the stars with Barcelona's open-air cinemas. These cinema sessions usually start in summer, and are held everywhere from Barceloneta beach, to the top of Montjuic castle. Bring your own chair or beach towel, and enjoy some of the classics in a brand new way.
Montjuic Magic Fountain
One of the stops on the Hop On Hop Off bus tour, Montjuic magic fountain was built in 1929 and completed in just one year. Most nights per week, Barcelona council puts on spectacular light shows at the fountain, the water jets dancing and moving to music, colour, and light. This spectacular is a great way to start an evening in Barcelona.
Show times:
01 January-06 January: Thursday, Friday, and Saturday at 20:00
01 March – 31 March: Thursday, Friday, and Saturday at 20:00
01 April- 31 May: Thursday, Friday, and Saturday at 21:00
01 June- 30 September: Wednesday- Sunday at 21:30
01 October- 31 October: Thursday, Friday, and Saturday at 21:00
01 November- 31 December: Thursday, Friday, and Saturday at 20:00
Please note: there are no performances from 7th January- 28th February as the fountain will be under refurbishment.
Barcelona Port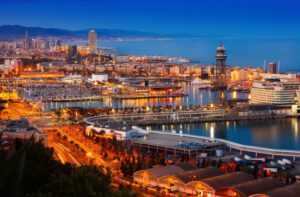 The port in Barcelona is one of the most important ports in the whole of Spain, and was one of the reasons Barcelona was forced to expand in the early 19th century. At night, the port is illuminated and is a great place for an evening stroll. On your way, why not pop into one of the rooftop bars by the harbour for a cocktail?
Nightlife
A night out in Barcelona is truly unforgettable. Between beach clubs, city bars, and rooftop terraces, there is always something going on at night in the city. Nights out start a little later here, but go on well into the early morning- it's not uncommon to see the sunrise on your way home from the club.