Barcelona, a city known for hosting some of the best and most vivid festivals in Europe, is yet again preparing for the biggest street party of the year, Les Festes de la Mercè.
This exciting four-day festival, which officially took place for the first time in 1902, is the Catalan capital's way of saying farewell to the warmer months and ending the summer season with a bang! This traditional fiesta is held in the city centre every September in honour of one of the patron saints of Barcelona, La Mare de Deu de la Mercè (or 'Our Lady of Mercy').
In true Catalan style, you can catch more than 600 events at this street party, ensuring that every member of the family will find something to enjoy! This year's edition is set to kick off on Friday 20th September and will run all the way through to Tuesday 24th September.
Be sure to make your way to some of the most anticipated events including parades, concerts and fireworks shows! Plus, there's free admission to most activities and events, so you absolutely can't miss this colourful festival on your trip to Barcelona.
What's New in 2019?
This year la Mercè promises to be more vibrant than ever! The capital city of Lebanon, Beirut, will also be the guest city this year and promises to bring along some of the city's finest acts and artists from its rich contemporary cultural scene.
The Barcelona illustrator Maria Corte has designed the poster for La Mercè this year. In 2009, Corte also designed the official poster for las Fiestas de Santa Eulàlia.
Top Highlights of La Mercè Festival 2019
Gegants & Capgrossos
One of the highlights of the Mercè Festival is undoubtedly the Gegants and Capgrossos (giants and big heads), a renowned attraction and one to be enjoyed by the whole family!
Best described as tall papier-mâché figures worn by 'giant carriers', these characters perform dances while the parade makes its way through the streets of Barcelona. Here you're sure to see an endless variation of creative and imaginative designs! An added bonus is that the Capgrossos often run at the crowds and interact, making for an all-round unforgettable Barcelona experience!
Where to see it: Starts on Carrer de Montalegre and ends at Plaça de Sant Jaume  
Correfoc
The 'Fire Run', also known as the Correfoc, is one of the most anticipated events during the Festes de la Mercè. Dragons, devils and various 'bestiari de foc' (fire beasts) perform dances and parades with fire while an estimated 80,000 fireworks are set off!
Don't worry if you are visiting Barcelona with children as there is a 'Little Devils' fire run is especially for younger kids, which usually kicks off a little earlier on the Sunday night along Via Laietana.
Where to see it: Starts at Via Laietana and ends at Consulado del Mar    
Castellers
One of the events that should definitely not be missed is the Castellers show! Also known as human towers, you are sure to find yourself enchanted by the Castellers as they climb up one another, sometimes as high as 8 stories, finishing off each structure with a small child crossing the top of the tower.
An age old custom reaching back to the 18th century, this particular tradition originated in Tarragona, located just outside of Barcelona. It is a well known fact that the top Castellers teams from all over Catalonia perform at La Mercè Festival, so you are definitely in for a treat!
Where to see it: Plaça Sant Jaume  
Live Music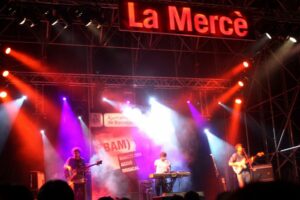 If you're a fan of live shows, then the concerts that run alongside the Mercè Festival are sure to satisfy your musical needs! Concerts BAM (Barcelona Acció Musical) are a variety of performances by various international music groups, all gathered in Barcelona especially for La Mercè!
More than 60 concerts will take place over this four-day festival in locations across the city, including Plaça de Joan Coromines, Plaça dels Àngels, Rambla del Raval, and Plaça de Joan Coromines, making the musical highlight of this Barcelona festival easily accessible no matter where you are staying!
Where to see it: Various times and locations. For the full schedule, check out the BAM Facebook Page
Magic Fountains and more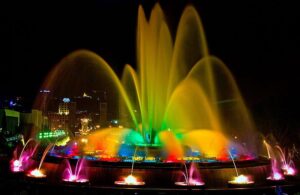 The celebration culminates with a grand finale at the Montjuïc Magic Fountain where a colourful pyrotechnic display awaits you! With different shades and hues, laser lights and a firework display, all accompanied by some cool music, we cannot imagine a better way to say goodbye to the summer!
For more information on this fantastic festival and a full schedule of events at Les Festes de La Mercè 2019, as well as their kick off times, be sure to keep an eye on the official website.