As the weather grows hotter, the music gets louder and the drinks get cooler… chill out and sip on a cocktail at one of the beautiful beaches along the Mediterranean, take your picnic basket to the colourful Park Güell, or party hard with an international crowd at some of Europe's biggest and best music festivals. This is summer in Barcelona.
Fantastic Summer Festivals
Sónar Festival 2019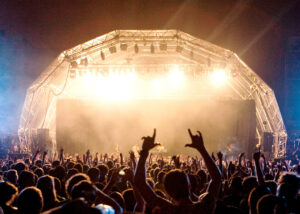 18th – 20th July 2019. The Catalan capital is known to host some of the biggest music festivals in Europe, and this summer will see the city come alive with pumping tunes from international artists! Don't miss the 26th edition of Sónar Festival in Barcelona, one of the best known electronic music celebrations. With big acts including A$AP Rocky and Disclosure, audiences are in store for a 72-hour fiesta at a variety of venues across the city.
Nit de Sant Joan
June 23rd 2019. Don't miss the massive fiesta known as 'Nit de Sant Joan' this summer in Barcelona. This huge celebration of Saint John's Day kicks off on June 23 and runs all the way into June 24. During this wild night, the city comes to life with bonfires at the beach, fireworks and parties at most bars and clubs across the city. One to try out for sure!
El Grec Festival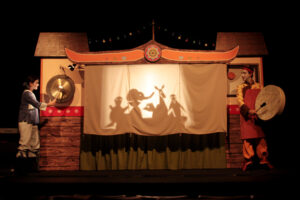 July 1 – 31 2019. For the entire month of July, the Grec Festival will take over the city, demonstrating the best in performing arts. Shows will take place in multiple venues across Barcelona, including the open-air theater on Montjuïc Hill, and El Teatre Grec, treating audiences to outstanding performances in dance, theatre, music, and circus.
Click here for the full El Grec Festival programme.
Festa Major de Gràcia
2019 date to be confirmed. Transforming the streets of the beautiful neighbourhood of Gràcia this summer, is the Festa Major de Gràcia. This week-long fiesta draws in thousands of visitors each year to celebrate amongst a colourful hive of traditional festivities including parades, human towers and fire-runs.
The biggest attraction at this fantastic festival is the annual competition of 'Best Decorated Street' where the residents of the streets and plazas of Gràcia vie for this coveted title, adorning their areas with bright, homemade decorations based on a different theme each year.
Summer in Barcelona 2019 – Ideas and Activities
Picnic at Park Güell
For a serene escape from the hustle and bustle of the city streets this summer, head to Gaudí's colorful playground, Park Güell. Take a stroll around the beautiful green space, observing the signature styles from the Catalan native, then relax with a picnic, taking in the breathtaking views of Barcelona.
Don't forget to look for the famous dragon fountain, too!
We all Scream for Ice Cream
Feeling a little hot under the sizzling Barcelona sun? Why not grab a delicious ice cream to cool down? There are loads of ice cream parlours in Barcelona, but we recommend the authentic Italian heladería, Amorino. This franchise can be found dotted around the city centre, offering a little bit of homemade heaven to refresh your senses. For a cool and quirky ice cream experience, be sure to check out Eyescream and Friends (Passeig Joan de Borbó), where you can choose from a variety of unusual flavors and you can even add edible eyes for a unique twist!
Daylight to Twilight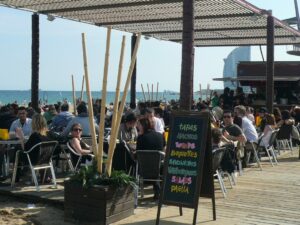 An absolute must when visiting Barcelona in summer is kicking back at one of the popular chiringuitos along the shore. These funky beach bars can be found right on the sand, offering quick snacks and juicy cocktails.
As the sun sets, dance in the moonlight at La Deliciosa, a cool shack found at Sant Miquel Beach, where you can enjoy tasty snacks and mouth-watering Mojitos!
Rooftop Bars and Beach Clubs
For a more chilled-out evening, check out one of the many rooftop bars in Barcelona. Kick back on the comfy sofas with a fruity cocktail, waiting for night to fall when the city lights add a touch of sparkle to the views that stretch all the way to the Mediterranean.
During summer in Barcelona, there's no better place to party than along the beachfront at Vila Olímpica where you can find many of the coolest nightclubs in the city like the stylish Opium, or the ever-so-glamorous Shôko.
Day Trip to Maresme
A trip to the region of Maresme is perfect for a day away from the city. Situated around 30 minutes from Barcelona, you can simply hop aboard the R1 Cercanías Renfe train to spend some time on one of the beautiful sandy beaches, take a stroll through the pine forest or visit one of the local villages. Maresme is also perfect for family days out as it is home to plenty of parks, a marine zoo, and a water park.
Rock the Boat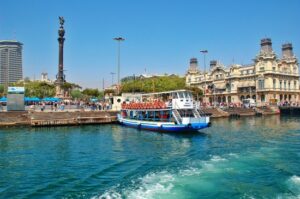 For a unique way to see the city this summer, hop aboard a Barcelona boat tour. Take in the stunning panoramic scene of the Catalan capital's skyline, catching views of the towering Sagrada Família, the Olimpic Games HQ, Frank Gehry's Golden Fish, and much more, all from the cool waves of the Mediterranean.
Check out Skyline BCN for amazing private sailing tours right along the Barcelona coastline!
Vamos a la Playa
Blessed with around 4.5km of golden sands, the Barcelona beaches are perfect for bathing in the Mediterranean waves, basking in the summer sun and relaxing on the golden sands. For a lively atmosphere, check out Barceloneta Beach or Nova Icària Beach, where beach bums play volleyball, sun worshippers take it easy on loungers, and kids build sandcastles.
If you're feeling a little more adventurous, then why not try your hand at some water sports at the Mar Bella Beach? With windsurfing, kayaking and plenty more, this strip of sand is ideal for some  hardcore beach action.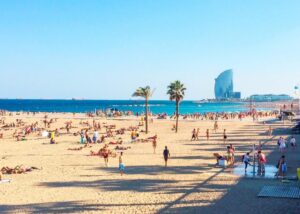 If you're feeling peckish after a day of beach fun, why not grab some paella at one of the chiringuitos or enjoy a refreshing glass of Sangria. Head to the Sant Marti-Poblenou district where you will find Nova Mar Bella Beach. This playa offers a peaceful experience where you can laze around in the sun and sip cocktails or enjoy dinner at one of the many fantastic seafood restaurants along the coast.
Ready to book your apartment?

If you're planning a trip to the Catalan capital this summer, we recommend staying in one of the many beach apartments in Barcelona. Spend your day basking in the Spanish sun, checking out a local chiringuito, or  visiting a nearby attraction in the city, all with a comfortable apartment in Barceloneta or Diagonal Mar to call home at the end of the day. For an extra-special Mediterranean feel, grab yourself a sea view apartment in Barcelona and enjoy breakfast looking out over the cool waves every day of your summer trip.