If you're living in Barcelona, staying here for a longer break, or are just spending the Christmas period in the city, don't miss out on the best part of the day… Christmas Dinner! Here at Apartment Barcelona we LOVE typical Spanish and Catalan food, but we're also a big fan of the traditional Roast Christmas Dinner…
So where can you find a place that offers turkey, potatoes, gravy, veg, and all the trimmings? Well, look no further… Here are our favourite places to eat a traditional Christmas Dinner in the city…
Now who wants brussel sprouts?
Flaherty's Irish Pub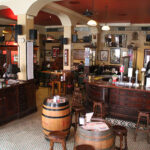 Flaherty's is well known among Barcelona for being the place where expats, tourists, and locals, all come together to enjoy a beer and a good time! Located just off Las Ramblas, this Irish pub has a reputation for being one of the places you'll go to once, and not want to leave!
This year, Flaherty's is offering a Christmas Dinner which includes:
1. A spectacular selection of starters
2. A tantalisingly tasty traditional dinner of stuffed turkey breast and ham with cranberry sauce (or a vegetarian alternative)
3. Everyone's favourite Christmas Pudding!
4. A free beverage of choice…
Christmas Dinner at Flaherty's is only €35 per head so you can even enjoy dinner without pinching your wallet! As this place is so popular, you will need to reserve your spot, something you can do by emailing bookings@pflaherty.com with your name and party size.
From 19:00 Irish musician Peter Moynahan will also be playing live at Flaherty's, encouraging the audience to join in and spread that Christmas cheer… If you can't make the 25th, he's also playing on Christmas Eve from 19:00 to 21:00 so you're guaranteed to catch a good crimbo sing along!!!
Flaherty's can be found on Plaza Joaquim Xirau.
Cent Onze at Le Meridien Hotel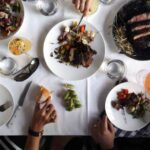 Le Meridien Hotel is known for being the place where famous names like Madonna and Bruce Springsteen have stayed, but even if you're not lucky enough to be staying a night here, you can still celebrate the festive season in the hotel's restaurant, CentOnze… 
Chef Luis Ramos will be treating diners to a range of special dishes on Christmas Eve, Christmas Day, and also Boxing day at deliciously affordable prices.
For more details, and to view all their menu options, check out their website.
Le Meridien Hotel can be found on La Rambla, 111.
Don't fancy roast turkey this year? If you're happy to take a break from the traditional and go to somewhere more Navidad than Christmas, why not head to…
Botafumeiro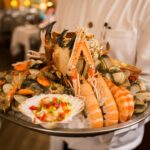 A timeless classic here in Barcelona, Botafumeiro is known for its traditional Spanish cuisine, mouth-watering seafood dishes, and unforgettable paella, a menu that has been putting them at the top of the city's gastro scene for four decades now.
The folks at Botafumeiro will be open on Christmas Day, giving you the chance to eat Spanish on the 25th and wish those around you a ¡Feliz Navidad!
Botafumeiro can be found on Gran de Gracia, 81.
From everyone at Apartment Barcelona, we wish you a very Happy Christmas whatever country you're celebrating the festive season in this year… See you in 2019!
Merry Christmas!
¡Feliz Navidad¡ 
Bon Nadal!