When the weather cools along the beautiful Catalan coast, autumn begins. And autumn time is wine time!
Picture this. When you're sitting in your slightly thicker jacket (much to the dismay of those who promised you a warm October getaway), the first grapes of the season are beginning to be harvested. It's like the circle of life, but with grapes instead of lions.
In order to make the most out of this autumn season, we've written a list of some of the best excursions and day trips that offer you the chance to sip this season's liquid gold, all with a spectacular view of Barcelona city.
Wine and Balloons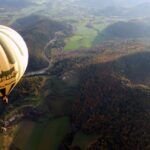 For those of you that are coupled up this autumn season and don't mind facing a bit of altitude, how about drinking wine on a balloon ride that flies over Catalonia's autumnal landscape?
In this 6-7 hour tour, you will be able to see some of the country's most breathtaking scenery like the Pyrenees Mountains and the Mediterranean Sea. The tour will also take you over La Garrotxa Volcanic Zone Natural Park, another impressive scenic gem of Catalonia.
Of course, what balloon ride would be complete without a glass of wine! So while you're taking in this impressive view, you can also enjoy a local specialty: Pink Catalan Cava…
To find out more about this fantastic trip, click here.
Wine and Mountains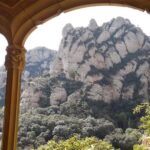 If you much prefer having two feet on the ground, we recommend taking a tour to Montserrat, a beautiful mountain range close to the city. You can spend either half a day or a whole day in these stunning surroundings, depending on whether you visit Montserrat's incredible monastery (we advise that you do!)
At the end of these 'mountain tours,' there is the opportunity to visit Oller del Mas, one of Catalonia's most successful wineries. Here you will enjoy three specially selected wines to enjoy with a rich tapas menu which also includes desserts!
You don't want to miss the dazzling atmosphere of these magnificent vineyards…
To read more about the Montserrat tours, click here.
Wine and Water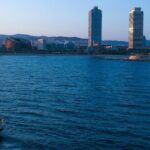 We've taken you up into the air, and up into the mountains, but how about drinking wine at sea?
With this exceptional tour you can enjoy a boat ride along the Catalan coast in a 16 metre long wooden sailboat! This trip takes you on a sea ride like no other for 1.5 hours, then drops you off in El Masnou, a town not far from Barcelona centre.
El Masnou is one of Spain's oldest wine harvesting sites, and is one of the best places to go if you want to drink wine in a truly authentic experience. On your arrival in El Masnou, you will be greeted by Sommeliers that will help you explore the local area, as well as offer you a range of tasty Mediterranean wines!
To set sail, click here
Wine and Breakfast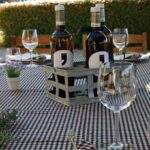 Want to start the day with style? Why not indulge in a traditional Catalan breakfast amongst some beautiful vineyards!
On this trip you will be driven to a 14th-century winery near Alella, where you can enjoy breakfast in the garden of a typical Catalan farmhouse, washed down by five different local wines.
Breakfast with wine and a view. What better way to start the day?
For more information, click here.
Of course, the city centre itself is also home to some of the most incredible places to drink wine. Just a stroll through Barcelona's neighbourhoods will surely surprise you with some hidden gems to taste all types of liquid gold…
But don't just stop at wine! Why not discover your inner cheese gourmet and read our article about the best places to taste cheese in the city!
Photos: Taken from Barcelona Discovery.