One may not expect Barcelona to be the home of so many Ramen restaurants- understandably so, with tapas bars around every corner. But if you grow tired of croquetas and patatas bravas, check out this list of yummy, authentic Ramen places around the city.
Koku Kitchen Ramen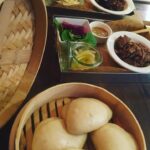 Located in both El Born and the Gothic Quarter, this ramen restaurant is known for their central location and unique platters. Their popular "ramen and gyoza bar" is open from 7:30pm- 11:30 PM during summertime weekdays. Customers adore the wide variety of gyoza, which are more commonly known as Japanese dumplings or "pot stickers".  The price for every ramen dish falls below €10, but you can choose to pay additional costs for add-ons like cashews, garlic, nutmeg—the list goes on!  For more information, the restaurant maintains a weekly blog that follows their culinary adventures.
El Born: Carrer del Comerç, 29, 08003 Barcelona Gothic Quarter: Carrer d'en Carabassa, 19, 08002 Barcelona 
Ramen-Ya Hiro
People rave about the Japanese cuisine and relaxing atmosphere at Ramen-Ya Hiro.  Whether it's the kind staff, fresh food, or vast menu- many reviewers call this "the best ramen in Barcelona." The only downside? Word's gotten around about this popular spot and there can be a wait.  So if you're hungry for some Ramen, and are feeling patient- stop by Ramen- Ya Hiro. They serve both lunch and dinner, and don't take reservations. What are you waiting for?
Carrer de Girona, 164, 08037 Barcelona
Grasshopper Ramen Bar
Grasshopper is another great Ramen eatery in Barcelona. Located in the heart of El Born, this Ramen bar's classic dishes will be sure to have your mouth watering. If you're still not convinced, know that this ramen bar is also equipped with a brewery. Sit, stay, eat ramen, and try an ice-cold Beercat!
Plaça de la Llana, 9, 08003 Barcelona
Fan-Shoronpo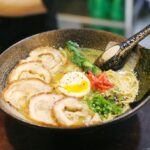 Fan-Shoronpo promises to give customers an authentic Japanese experience without having to leave Barcelona. Customers regularly give this Ramen bar high marks, complimenting the kind service and home-made Ramen. Prices here are reasonable, as they typically fall below €10. Reviewers specifically enjoy their dumplings and suggest that customers call before peak dining time to ensure a faster experience.
Carrer de Sèneca, 28, 08006 Barcelona
Ramen Shop
Here's yet another option for Japanese cuisine in Barcelona. Located in the Gothic Quarter, pop into the Ramen Shop and try some authentic homemade noodles or some chilled dishes that are perfect for the summertime. Call and make a reservation or just walk in at your leisure. The restaurant will also make you food for take-out. Reviewers note how it serves as a small, peaceful escape from the hustle and bustle of Barcelona. Prices range from €11-20.
Carrer d'en Gignàs, 3, 08002 Barcelona
So, whether you decide to try a new Ramen dish or stick with your favorite- we're sure that these six restaurants will give you quality cuisine without breaking the bank!