See museum collections by night, listen to a concert or attend a show at La Nit dels Museus 2018. Go alone or with family, by bus, on bike, or on foot… and experience the magic of the arts!
On Saturday 19th May 2018, museums in Barcelona will open their doors for you between 7pm – 1am. You will have at your disposal all the collections and exhibitions on display, as well as concerts, performances, workshops, guided tours and activities for the whole family… what are you waiting for?!
From the port of Barcelona to the top of Tibidabo, more than 80 centres throughout the city and its surroundings ​​will be taking part in the La Nit dels Museus, aka, Museum Night.
For the third year in a row, the event once again focuses on the various proposals that the Creation Factories and 11 museums of the city have collaborated to create. La Noche is a unique opportunity to discover these projects and the spaces that inspire them, with activities for all kinds of audiences. Creación y Museos gives us a new look at the spaces, as well as further insight into the history and creation. For more information, check out La Nit dels Museus website.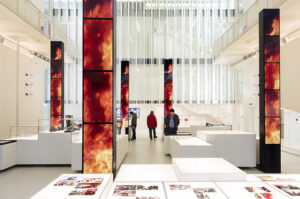 The Night of Museums is a European initiative that this year reaches its 14th edition, involving more than 4000 museums throughout Europe… so don't miss out!
Date: 19th May 2018
Admission: FREE
Time: 7:00 pm 1:00 am
For a list of the specific museums taking part and their activities visit the La Nit dels Museus website.