A little bit of history…
If you think you're staying in Barcelona but fancy venturing out of the city, then Zaragoza could be an excellent choice for a day trip!
The city of Zaragoza boasts more than two thousand years of history. It is the fifth largest city in Spain by population and the capital of the eponymous province and autonomous region Aragón. Although, the city has a beautiful historical centre, with many sights, the city in Spain is also known as the "unknown"…meaning it's not yet too crowded – a good reason to visit!
In the first century B.C., Zaragoza became a Roman colony under Emperor Augustus, wearing the name Caesaraugusta. The city has had numerous rulers over the centuries and many inhabitants, meaning you will find monuments and remains of many different cultures and in many styles, enriching the city with fantastic architecture and secrets to discover.
How to get there?
Getting to Zaragoza from Barcelona is straightforward and stress-free. We would recommend taking the high-speed AVE train from Barcelona-Sants station to Zaragoza-Delicias with a journey time of around 1 hour and 40 minutes.
What to do in Zaragoza
Palacio de la Aljafería
This beautiful palace now houses the seat of the Cortes (regional parliament) of the autonomous region of Aragón. Surrounded by a castle built in the second half of the eleventh century, this Arabic style building has been used as a palace by many kings for centuries and has undergone various periods of renovation over time, adding distinctive elements to the architecture.
La Aljafería is one of the three most important structures of Moorish architecture and a cultural landmark in the city. What's more, it has been on the UNESCO World Heritage List since 2001.
For more information on tickets and prices, click here.
Calle de los Diputados, 50003 Zaragoza
Puente de Piedra
At the beginning of the 12th century, citizens of the city were trying to build a bridge across the river. Under the direction of Gil de Menestral the Puente de Piedra was finally built in the 14th Century. However, a flood in 1643 destroyed two central bridge spans and the reconstruction of the bridge was economically crucial for the development of the region and country. For centuries the Puente de Piedra (also referred to as 'The Bridge of Lions' after the city's symbols) formed the dividing line between the kingdoms of Castile and Navarre over the river Ebro. When crossing the bridge, take a closer look at the pillars at each end to spot four hiding Lions.
Walk across the bridge to the next stop on your tour of Zaragoza: the beautiful Basílica de Nuestra Señora del Pilar.
Paseo Echegaray y Caballero, 50014 Zaragoza
Cathedral-Basílica de Nuestra Señora del Pilar
A jewel of Baroque art, characterised by its four major bell towers, this enormous and extremely impressive cathedral is one of the most famous Marian sanctuaries of the Catholic world, visited by thousands of pilgrims every year. It is decorated with paintings by the famous Spanish artist Francisco de Goya and located in one of Europe's largest squares, Plaza del Pilar. Built between the 17th and 18th Century, the Cathedral honours the Virgin Mary under her title Nuestra Señora del Pilar.
As the legend goes, the Virgin Mary came to Zaragoza to the Apostle Saint James (Santiago) who was preaching on the banks of the Ebro, to console him. The Apostle Saint James came to this area to spread Christianity. On his journey through Aragón, the Virgin Mary is said to have appeared to him with the proposal of building a church for her at the place where he was at that moment. At first, this became a small chapel, but over the centuries the church has grown. Since then, this place is a pilgrimage site, with national celebration on the 12th of October, the largest and most famous festival of Zaragoza.
Entrance to the Basilica is free. Find more information here.
Plaza del Pilar, 50003 Zaragoza
Roman Walls
On your hike through Zaragoza it's essential you visit the city's Roman walls. The Romans founded the city in the year 24 B.C., taking its name Caesaraugusta from the then emperor Caesar Augustus. The Roman walls of Zaragoza were built much later in the 3rd Century A.D. and were 3 kilometres long, featuring 120 defensive towers. On Avenida de César Augusto you will find one of the longest pieces left of the wall, at least 80 metres long.
The wall was once 10 metres high and at some places 7 metres thick. After the fall of the Roman Empire subsequent leaders, including the Visigoths and Muslims, continued to use the walls to defend themselves against attacks. For a history lesson like to other and a real glimpse into Roman life, this is an essential site to tick off your list when visit Zaragoza.
La Seo Cathedral
The Cathedral San Salvador in Zaragoza, also known as La Seo, is built on the ancient Roman forum and Saraqusta mosque. In the 12th century construction of the Cathedral began in Romanesque style and the building was later subject to various periods of reforms and extensions taking on Gothic features and finally Baroque until its completion in the 17th century.
The Cathedral looks small from the outside but when you enter inside, you will be amazed. Make sure you see the breathtaking Gothic Altarpiece and tapestry museum.
For more information click here.
Plaza de la Seo, 4, 50001 Zaragoza
Caesaraugusta Theatre Museum
If you're keen to continue your journey through Roman history, then make sure you also visit the Roman theatre, which was discovered in 1972 during the construction of a new street and apartments. The theatre was built in the first century B.C. and had a capacity of around six thousand spectators! The museum that now houses it describes the excavation process, the history of the area and the use of the theatre during the Roman Era. The museum and theatre are indoors so you can visit even when the weather isn't in your favour.
Calle San Jorge, 12, 50001 Zaragoza
Forum Museum
Museo del Foro de Caesaraugusta, is located in the square next to the La Seo Cathedral. The underground museum exhibits archaeological remains excavated in 1988. It displays the Augusto market, remains of the sewer, canal and pipe systems, dating back to the founding period of Emperor August in the first century B.C. and the era of his successor, Tiberius.
This is a fascinating insight to Roman life in Zaragoza, and the perfect place to round of your history tour of the city… Now, onto outdoor adventures, shopping and of course, food and drink!
Plaza la Seo, 2, 50001 Zaragoza
For more information about tickets and prices, click here.
Park Monasterio de Piedra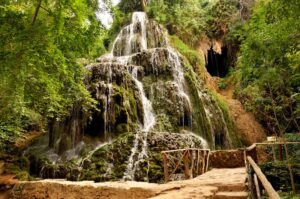 Are you someone who's always up for an adventure? Put on your best shoes and visit this beautiful park and centuries old monastery which are full of history! You can walk around all day and enjoy the beautiful nature. An absolute must-visit we say!
Entry is €15 per person but you get a lot in return – waterfalls, a cliff descent, a fish observatory spot, and of course, some idyllic peace and quiet amongst nature. You can visit this park all year round. Make sure you check out the bird shows on display from mid-March to the end of October.  The park can be reached by car and by bus from Zaragoza train station.
Check out the website for more information.
River Aquarium Zaragoza
Walk through the rivers of 5 continents and see the fish and animals! This River Aquarium is the largest in Europe and the third largest in the world, build for the Expo Zaragoza in 2008. It is so much more than just a Aquarium – on top of all the different types of fish, you can see Nile crocodiles, caïman, monkeys, birds, reptiles and much more. This is an activity with a difference and something great for kids. Take them on an adventure through the Nile, Mekong, the Amazon, the Murray-Darling and the Ebro.
For more information on tickets and prices, click here.
Shopping centre Puerto Venecia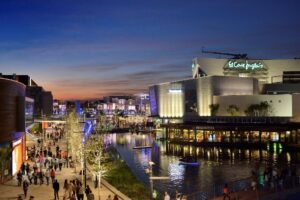 If you need a break from sightseeing, enjoy Puerto Venecia, a shopping centre with a lot to offer. Running along the water, an indoor and outdoor recreation area (which includes go karting, a climbing wall, and cinemas), and shopping centre offers plenty of entertainment. This is an ideal choice if you are with your family.
Commercial area
Open from 10:00 until 22:00, Monday to Saturday and public holidays
Closed on Sunday
Supermarkets
Open from 10:00 until 22:00, Monday to Saturday
Recreation and leisure
Open 365 days a year
Open from 12:00 until 00:00, Monday to Thursday
Open from 12:00 until 02:00, Friday to Saturday and public holidays
Sunday open from 12:00 until 00:00
Check out the website for more details.
Travesía Jardines Reales Nº7, 50021 Zaragoza

Restaurants and bars
Carnívoro Wine & Grill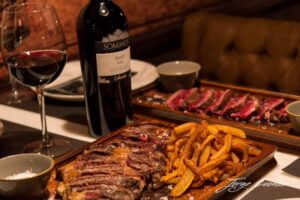 Loved by locals and tourist alike, this place is for carnivorous lovers only…as the name might suggest! It offers a cosy and cool yet elegant vibe and the staff are excellent. Their meat is perfectly prepared and the flavours are enough to make your taste buds tickle. Their 450g Rib-eye steak is a must-try and their variety of wines are of high quality. We think this is one of the best places to eat in Zaragoza. So if you're looking for something a little different to tapas or traditional regional cuisine, then you're in the right place!
Calle Jerónimo Zurita, 21, 50001 Zaragoza
Ric 27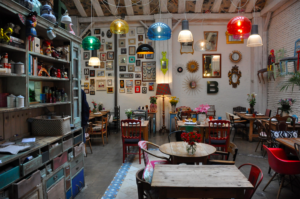 If you like going to a restaurant that surprises, then this one will be right up your street! Ric 27 is where tapas meets Gastropub…probably totally different from what you are used to or most of the other places you'll find in the area! Along with the out of the ordinary food, Ric 27 features unique interiors, with plenty of colours and wall decorations. Eating at this quirky joint won't just be a meal, but an experience too. Dine on oxtail stewed in red wine followed by chocolate brownie!
Calle Pedro María Ric, 27, 50008 Zaragoza
El Méli del Tubo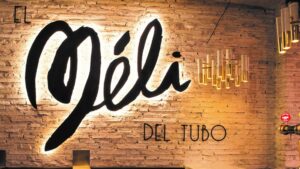 Situated in a small side street near by the famous shopping strip, Paseo de la Independencia, El Méli del Tubo is a restaurant where you can enjoy delicious modern tapas, in a cosy place after a day of wandering around the shops. This place stands out for its originality, delicious taste and the variety of its dishes.
Calle Libertad, 12, 50003 Zaragoza
Rock & Blues Café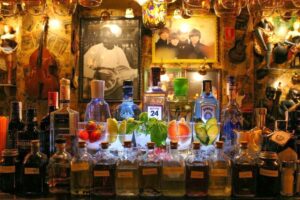 Long live the Rock & Blues Café! The atmosphere breathes music. This is a unique venue where you can be entertained by unforgettable live performances. The Rock & Blues Café is definitely a place to let your hair down whilst sipping on some of the best drinks in Zaragoza! Head there after dining at one of our restaurant recommendations for a night of fun in Zaragoza!
Calle del 4 de Agosto 5 – 7, 50003 Zaragoza
We hope we've tickled your taste buds enough to visit this spectacular ancient city. With enough history, culture, architecture and activities, you're sure to find something for everyone. Visit Zaragoza for a great day trip during your stay in Barcelona.