A mixture of tennis, squash and badminton, padel is paving its path as a social, fun and accessible sport! This young game has already made its mark in South America, U.K. and Spain – particularly flourishing in Barcelona. Although it's not yet an Olympic sport, it's continuing to gain popularity at a fast pace! Here's our guide to all things padel so you can discover it for yourself here in Barcelona.
A bit of background…
Padel was invented in the 1960s by Enrique Corcuera in Puerto de Acapulco, Mexico. Corcuera designed a 10 by 20 metre court in his home, building walls along each side to enclose it. Shortly after the game's inception, padel was introduced to Spain by Prince Alfonso of Hohenlohe after spending a holiday at Corcuera's house. Prince Alfonso brought the sport to his high-end Marbella Club hotel where visitors quickly became familiar with the unique fusion sport, initiating its boom here in Spain.
How to play
The original set of rules was proposed by Viviana Dellavedova Corcuera, the wife of the sport's creator, and gifted to him for his birthday. Padel is a partner sport played with small fibre paddles rather than strung racquets. Regular tennis balls are often used and scoring is also the same. The rules are essentially the same as in tennis except serves are underarm and the ball can bounce off the walls that surround the court. Similar to tennis, volleys are encouraged to make a more exciting and competitive match! Click here to read the latest full version of rules.
Where to play Padel in Barcelona
Fairplay Padel Club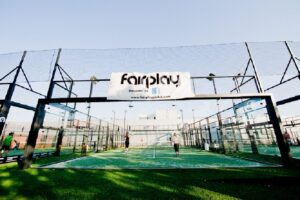 There is plethora of places to play padel in Barcelona. Behind the leafy Montjuïc lies Fairplay Padel Club, offering eight brilliant courts where players can take classes, participate in leagues, events and tournaments. Reserve a court online, sign up for padel school or for individual classes.
Carrer del Foc, 2, 08038 Barcelona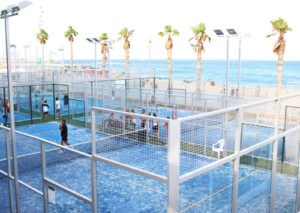 Club Natació Atlétic-Barceloneta
Play padel right on the beach at Club Natació Atlétic-Barceloneta! Offering four pristine courts, it is the perfect setting to compete in a friendly game of padel whilst enjoying the ocean breeze. Buy a day ticket for €12,53 or invest in a monthly membership for €42,41!

Plaça del Mar, 08003 Barcelona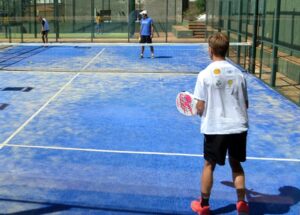 Club Tennis De La Salut
In addition to tennis, Club Tennis De La Salut also offers 9 padel courts. This club offers lessons to both children and adults alike and has padel teams which are entered into a league. In addition to padel, this club offers fitness classes such as pilates, yoga, Zumba and cycling, as well as boasting multiple restaurants to grab a post-workout meal or snack. For more information, click here.
Carrer de la Mare de Déu de la Salut, 75, 08024 Barcelona
Club Esportiu Laieta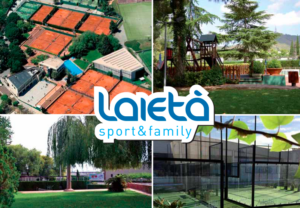 The objective of Club Esportiu Laieta is to incite more enthusiasm in players each time whether playing hockey, tennis, basketball, football or padel! The club values teamwork and positive thoughts, which are essential qualities when learning and playing on one of their 11 padel courts. Enjoy a fast-paced match before having a dip in their pool or relaxing in the sauna.
Carrer Pintor Ribalta, 2-8, 08028 Barcelona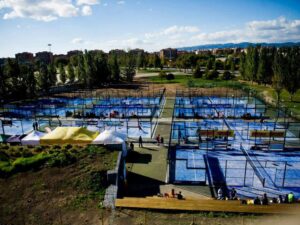 Padel Barcelona El Prat
Here, the club offers classes for all ages and skill sets. Classes are taught by skilled teachers whose goals are to help facilitate improvement among each of their students. It is the perfect location to host events for companies and large groups. With a large outdoor terrace as well as an indoor restaurant and plenty of social events to get involved in, this is a club you'll never get bored with! Learn more about El Prat's rates here.
Parc del Riu, 3-4, Ronda de Llevant, 08820 El Prat de Llobregat 
Meetup
Meetup is an app and website designed to congregate people who share similar interests. The app is used to connect people who want to play tennis or padel, attend a book club, watch films, or take art classes. Make sure to keep an eye out for a padel Meetup group to meet new people and improve your game!
Ready for competition?
Whether a professional or an amateur, tournaments and games are being held for any age and level!
Many clubs, like Fairplay Padel Club and El Prat, offer local tournaments in Barcelona. The Barcelona Padel Tour organises a tournament once a month where each registered player is guaranteed two matches. Upcoming tournaments are taking place until September 30th, from October 21st to 28th and November 18th to 25th.
Likewise, there are international tours as well, such as the World Padel Tour, due to the game's rapid growth throughout the globe. In this worldwide, professional circuit diverse players congregate in Spain, where 12 of the 16 tournaments in the calendar are played. Excited fans gather in stadiums to watch some of the best padel players compete. So if you don't fancy playing, watching is always an option!