Barcelona is an extremely popular destination for visitors for various reasons, some of which include its climate, architecture, sights and cuisine. Each year, the Catalan capital hosts new and exciting adventures for both visitors and locals to enjoy. So, as if you needed even more of an excuse to come to this wonderful city, here we give you some of most enticing reasons to come to Barcelona in 2017 that will have you booking your plane tickets as soon as you get the chance!
1. El Bulli is making a comeback.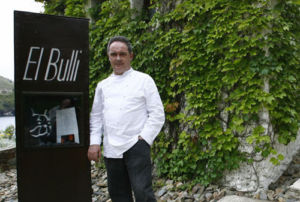 You read that right! Top chef Ferran Adrià plans to re-open El Bulli at the end of 2017. Closed in August 2011, this restaurant had 3 Michelin stars and had been voted best restaurant in the world 5 times. The Elbullifoundation recently made an investment in the new El Bulli, which will be a research and innovation centre of excellence, part of which will open as a functioning restaurant. But don't get too excited, securing reservations will be harder than ever before…
When: End of 2017
Where: Cala Montjoi, Girona
2. You can get some extra culture fixes this year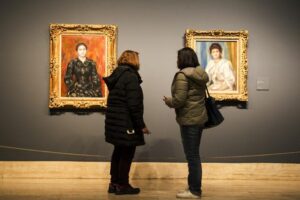 You probably already know that Barcelona plays host to some incredible museums, from the MACBA museum of modern art, to the Picasso museum right in the heart of the Old Town. Some of these are even free on Sundays.
But if you're visiting Barcelona in 2017, there are some temporary exhibitions you don't want to miss.
Renoir
You'll be able to check out Renoir's exhibition, highlighting this artist's talent from centuries ago. Since this fabulous exhibit ends on January 8th, be sure to book your tickets in advance. There is free admission during certain hours; otherwise it is open to public for only 3€. Included in the exhibition are over 60 works of art that are representative of the different stages of Renoir's career. His work is accompanied by that of various artists such as Van Gogh, Maurice Denis, Edgar Degas, Pierre Bonnard and Picasso.
When: Until January 8th 
Where: Carrer de la Diputació, 250
Romanesque Picasso
Located in the beautiful Montjuïc park, Museo de Nacional de Arte de Cataluña (MNAC) has held some interesting exhibitions over the past years. Its latest exhibition examines Picasso's relationship with Romanesque art, a style to which he was dedicated for a long time in his career. The exhibition features over 40 works, focusing on 3 areas; The 'Virgin from Gósol', which Picasso saw during his stay in the village; The Crucifixion, which was a popular theme in the Romanesque art; and the skull, which is also a prevalent Romanesque symbol.
When: Until February 26th 
Where: Palau Nacional, Parc de Montjuïc
3. You can try some awesome brews at the Barcelona Beer Festival.
Head over to La Farga de Hospitalet for Barcelona's craft beer festival. In this 3 day celebration at the end of March, you can try new and innovative craft artisan beers both from Spain and other countries. Organized by the non-profit organization ACCA (Association for Culture and Artisanal Beer), admission to the festival is free, but beer tasting is not. Don't miss out on the Barcelona 2017 Beer Challenge, which is designed to delegate awards that recognize breweries' successes in their brewing processes.
When: March 24, 25 and 26 
Where: Carrer Barcelona, 44

 4. It has free WiFi, like, all over.

At the moment there are 1970 free WiFi spots across the city, making it one of the largest WiFi networks in Europe. So, if you choose Barcelona as your destination in 2017 over other cities, you'll never be offline when you need to connect with friends or post some selfies on Facebook.
5. It's literally the 16th most Instagrammed place
in the world.
Getting that perfect pic from a restaurant or a landmark is just part of the fun of exploring a new place. As 2016 came to an end, Instagram  revealed its list of most snap-happy places in the world, and Barcelona Centre came in at no. 16. The beautiful city of Barcelona, with its amazing architecture, including the fascinating works of Antoni Gaudí, is a big hit with the Instagram crowd. And that's not surprising, because every street is worth getting your camera out for. So, visit Barcelona in 2017 to get this beautiful city even higher on the list.
6. It has some of the best music festivals in Europe.
Primavera Sound
Don't miss out on Barcelona's hottest music festival: Primavera Sound. This spring concert, starting on May 31st and ending June 4th, features various artists from all over the world, such as Arcade Fire, Bon Iver and Frank Ocean. Hosted at the Parc del Fòrum, this 5 day festival is the highlight of spring for countless locals and visitors alike. Tickets are available in different forms, depending on your availability and your preferred level of access. Check out their official website for more info.

When: May 31st – June 4th 
Where: Parc del Fòrum, Muelle de la Marina Seca, C/ De la Pau, 12
Sónar
For all those electronic music junkies out there, Barcelona will host the Sónar festival once again in 2017. Established as one of Europe's most well known music festivals, Sónar will blow you away from June 15th till June 17th at the Fira de Montjuïc.
This 3 day festival has hosted various big music acts throughout the years, names like Fatboy Slim, The Chemical Brothers and New Order have made their appearances already. Each year the line-up gets bigger and better, so 2017 will surely leave you with an experience you'll never forget, with artists such as Justice, Eric Prydz and Nicolas Jaar among the first to announce their presence at Sónar 2017. Take a look at their website for more info.
When: June 15th – June 17th
Where: Fira de Montjuïc

7. 'David Bowie Is' in Barcelona.
The exhibition 'David Bowie Is' will come to the Museu del Disseny de Barcelona in spring 2017. It's the first international retrospective on the artist's life and career. The exhibition includes more than 300 objects, from Bowie's handwritten lyrics and original costumes to photography and music videos. The exhibition has already broken records as it's officially the most visited exhibition in London's Victoria and Albert Museum's history. More than 1.5 million people have already visited this one of a kind exhibition.
When: Spring 2017
Where: Museu del Disseny de Barcelona, Plaça de les Glòries Catalanes, 37
8. You can dance with dragons.
La Mercè is the biggest street party in Barcelona, and not one to be missed. This massive, almost week-long day celebration of the end of summer consists of various concerts and different events all across Barcelona. With fire runs, human castles, folk dancing and much more, including a dragon parade with fireworks, there is something to see for everyone. If you're coming to Barcelona with kids, there's plenty of activities for the little ones, too.
When: Days leading up to 24th September

Where: Various locations around the city
9. You can see one of the best football teams in the world do their thing.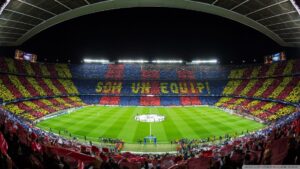 Consider yourself a football fan? Make 2017 the year that changes your life! FC Barcelona, or Barça, is one of the greatest football clubs of all time. Make your way to the Camp Nou stadium as thousands of fans will join you to see football icons like Messi and Iniesta do what they do best.
The atmosphere in this stadium is something you've never experienced before. What's more, Camp Nou is home to the most visited museum in Catalonia, the Barça museum, where you can catch a glimpse of how FC Barcelona became so successful and visit the changing rooms, among other usually off-limits places.
When: All year, although some matches in June, July and August are often friendly matches or special cup games.

Where: Camp Nou, C. Aristides Maillol, 12
10. You can enjoy some of the biggest concerts around.
This is an incredibly exciting year in terms of live music with Barcelona being a top stop for some of the biggest world tours. Taking on the stage on April 7th at Palau Sant Jordi, is the amazing Bruno Mars, ready to blow you away with his '24K Magic World Tour 2017'.
Superstar Ariana Grande will also be performing at the Palau Sant Jordi, June 13th with her 'Dangerous Woman Tour'. And if that's not enough, Shawn Mendes is ready to entertain Barcelona with his 3rd concert tour. After huge success with his 'Shawn Mendes World Tour' he will now target the Catalan capital with his brand new 'Illuminate World Tour' May 12th at Palau Sant Jordi.
11. You can party 'til the sun comes up. And then some.
Last but not least, Barcelona plays host to an amazing nightlife as well. With countless bars and clubs, you'll find more than enough going on when the sun goes down. In fact, with the clubs staying open till 6 a.m., and then after parties galore, you'd best make sure you have your dancing shoes at the ready.
The nightclubs in Barcelona are arguably the best in Europe, from the many touristy clubs lined up along the beach, like Opium and Pacha, to clubs like Razzmatazz that appeal to both locals and visitors, and newer clubs like Input High Fidelity. Some of the world's biggest DJs play in Barcelona, so whether it's house or RnB you're into, you'll be sure to find something to suit your style.