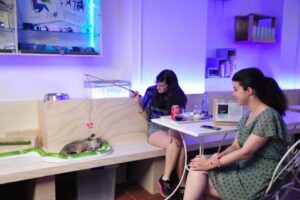 If you're someone who is always looking for new internet cafés, why not try something a little different? The first of its kind in Barcelona, Espai deGats, the Cat Café, is no ordinary café. Like most cafés, it has coffee (which is out of this world) and stocked bookshelves that are waiting to be explored… but here you'll also be sharing your environment with some furry feline friends.
At Espai deGats, you're free to sit and work as you please, and if you need a study break, you can enjoy your refreshments whilst playing with the cats, learning about them in special workshops, or simply trying a new experience. Located in the heart of Gràcia, this central café is the ultimate place for animal lovers.
Adoption Center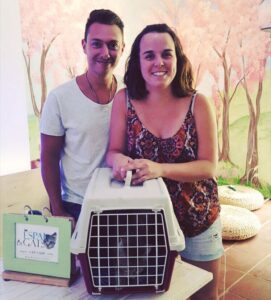 As well as a café, Espai deGats is part adoption center. The center aims to make adoption easier for cats that have spent too much time in foster houses or shelters.
If you're staying in Barcelona for an extended period of time, consider investing in a lifelong friend. Espai deGats provides the ultimate process for both new and old owners. Because it is part-café and part-cat shelter, you are given the opportunity to meet and interact with some of the animals before you decide whether or not to adopt one.
Espai deGats aims to guide future owners about the welfare of their cats and kittens, so books and workshops are available to those who want to learn more. This unique take on the adoption process caters to newer, potentially more timid customers who are inclined to really get to know their pets in a relaxed setting before deciding whether they're ready for the commitment of a cat.
Be sure to check out Espai deGats (we recommend booking first) for some great coffee and a quiet space to work, and to meet some of the feline residents. Maybe you'll even adopt one!
Carrer de Terol, 29
Take the L3 to Fontana