Last Updated: April 2017 
In Barcelona, you're spoiled for choice with bars, from unique to traditional, modern to quirky. For those who are looking for a truly authentic experience, the Barcelona bars that are a little more off the beaten track will be a great option for you. That said, these can be a little harder to find if you don't know where you're looking. So, we've compiled a list of some of the best secret bars Barcelona has to offer.
1 – Paradiso

So it's Friday evening and you've just arrived in Barcelona, looking for a cool drinking spot to head with friends in the heart of the city? Paradiso is your answer. This cool 'clandestine' cocktail bar is hidden behind the door of the fridge in a small pastrami bar. Without knowing about it, you'd be hard pushed discovering it but make sure you head there before the queue forms…trust us, this is a popular hangout. With out of this world cocktails, dressed with fresh fruits and fragrant herbs and bar food to boot, you'll be more than pleased with your choice of hangout in Paradiso…need we say more?
Adres: Carrer de Rera Palau, 4
2 – Beirut 37
For a secret bar in Barcelona with a great, friendly atmosphere, look no further than Beirut 37. English speaking staff can be best you'll find in Barcelona. And for drinks, the Gin and Tonics are to die for.found inside, where the interior includes lots of comfy chairs, renovated sculptures and dimly lit red lights to add to the ambiance. For entertainment, live music is hosted regularly. For a snack, we recommend the hummus, which is some of the
Address: Carrer de Joaquín Costa, 37 
3 – The Antic Theatre
The Antic Theatre is the place to be for small and exciting events, you will be surrounded by locals and very reasonably priced drinks. Found next to the Palau de la Música Catalana, this hidden Barcelona bar includes a garden area, which is used more throughout the summer, and a terrace inside which can also give you a great view of the enormous courtyard area. Find live music, poetry, theatre and much more all at The Antic Theatre. Drinks are very cheap, beer can be bought for around 2€ whilst wine is normally 3€.
Address: Verdaguer i Callís, 12
4 – Limehouse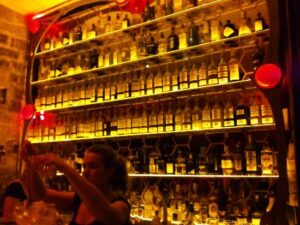 Opened in 2014, Limehouse is still relatively new but is becoming a favorite among students and travellers. If you ask anyone who has been to Limehouse before, they will tell you about their famous range of Mojitos. With multiple homemade gins available, you'll find plenty to sup here. Furthermore, the proportions are very generous, and quality is key at this hidden bar in Barcelona. It also has great décor to add to the atmosphere. A fantastic option for larger groups of people, Limehouse is the perfect place to start a night.
Address: C/ Carders, 31
5 – El Armario
Located in El Raval, this secret bar is definitely the most interesting in Barcelona. You enter the bar through a hole in the wall in the owners' wardrobe, to find a small bar with old, comfortable furniture. However, this Narnia-inspired bar is not always open, as it depends in what mood the owners are in, so you have to be a little lucky! This secret bar in Barcelona is the furthest thing from a touristic experience, but if you are a lucky enough to find and be allowed through the wardrobe, its an opportunity not to be missed.
Address: Carrer de la Riereta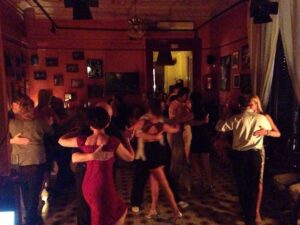 6 – Pipa club
As you could guess from the name, Pipa club is a pipe smokers club, although you don't have to be a member to enter as guests are welcome. Found on the 3rd floor of an apartment, inside you will find a relaxed atmosphere, filled with Sherlock Holmes themed ornaments and paintings. The secret bar hosts regular live jazz shows inside and if you're lucky you can watch them practice before opening hours. Food is not normally served in the bar so fill your stomach before visiting.
Address: Plaça Reial, 3