Sundays in Barcelona… nothing to do, right? Wrong! Sundays are a great day to enjoy the sights and sounds of Barcelona, from free museums to delicious brunches, picnics in the parks to soaking up the views. Here we give you a few ideas of what you can do on a Sunday in Barcelona.
1. Bike Tours 
For a fun-loving visitor, there is no better way to enjoy the fascinating sights that the city has to offer than by bike. On a Sunday in Barcelona, the streets are generally less crowded so you can explore the Catalan capital without dodging tourists. Whilst some may prefer to discover the city at their own leisurely pace, others may prefer to participate in organised excursions. There are several bike tour companies located throughout the city that provide comfortable and easy to use bikes at affordable prices, ideal for visiting Barcelona's hotspots.

2. Free museums
Barcelona is internationally renowned for its museums and if you're lucky enough to be in the city on the first Sunday of the month, you can expect free entrance at selected museums between certain times, such as the MNAC and the Picasso Muse um. Otherwise, there are plenty of other museums that guarantee free entrance on a daily basis. Our top five are: Palau Robert, Museu Geològic del Seminari, Arts Santa Mònica, Palau de la Virreina and Arxiu Fotogràfic.
3. Ciutadella Park & Park Güell
Parc de la Ciutadella is an idyllic settling for a leisurely walk or a Sunday picnic with the family. Within the park, there are several attractions and things to do including the famous Barcelona Zoo. With over 400 different species this zoo is well worth a visit. There is also the Cascada fountain, built in 1888 and designed by Josep Fontserè who was assisted by Antoni Gaudí, an architect in training at this point.
Park Güell, one of Gaudí's greatest masterpieces, and a great place to enjoy a Sunday day out in Barcelona. With features like the Sala Hipóstila, the mosaic patterned dragon, the square that provides spectacular views of the city and the 'trencadis' bench where you can relax and take in your surroundings, Sundays will have never seemed so good.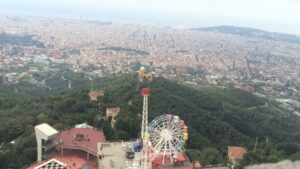 4. Tibidabo
At a staggering 512 metres high, Tibidabo is the highest mountain in the Collserola range. With the Tibidabo Theme Park, Mirablau restaurant and the beautiful church, Sagrat Cor, you will not be short of things to see and do on a Sunday in Barcelona. The incredible views allow you to appreciate the sheer beauty of the city, sea and surrounding mountains. Tibidabo can be easily accessed by public transport making it an ideal trip for all the family!
5. The Harbour & Aquarium
Barcelona's harbour is not only home to the multiple yachts but also L'Aquàrium de Barcelona, complete with underground tunnel where you can discover a multitude of species. On Saturdays and Sundays, after 3pm, entrance is free to visit the Royal Shipyard where you can find the maritime museum at the Port, too.
6. Montjuïc

The Montjuïc hill that watches over the city probably has the most to offer on a Sunday in Barcelona:
The magic fountain show is incredibly popular where the water spectacle is accompanied by music and lights.
The MNAC (Musuem Nacional d'Art Catalunya) Art Museum has a vast collection of art which contains Roman, Gothic, Baroque and Renaissance pieces.
The Montjuïc hill itself provides breathtaking views of Barcelona. You can best enjoy these views from the Montjuïc Castle and from the cable cars that can take you to the top.
The botanical gardens (Jardi Botànic) are also located on the Montjuïc hill. Tip: There's free entry on the first Sunday of the month plus every Sunday after 3pm here, too!
7. FC Barcelona
FC Barcelona has possibly been the city's biggest trademark for the last twenty years. Originally established in 1899, FC Barcelona eventually became one of the biggest clubs in the world. If a game happens to be scheduled on a Sunday make sure not to miss it, but if not, you can visit the Camp Nou Experience. This includes entry to the FC Barcelona Museum (the most visited museum in Barcelona), the enormous stadium which sits almost 100,000 people, the changing rooms, tunnel and the stands.
8. Barceloneta Beach

National Geographic has declared Barceloneta Beach as 'best beach city'. This beach was not particularly popular until 1992, when the Olympic Games were held in Barcelona, and the city prepared by importing sand and palm trees from other countries! Alongside the beach you can find plenty of activities, bars, cafés and restaurants perfect for a relaxing Sunday in Barcelona.
9. Shopping at Maremagnum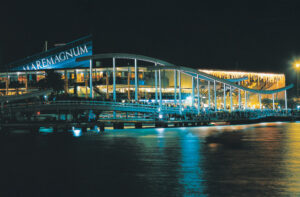 Whilst Barcelona is home to several shopping malls, the majority are closed on Sundays. That means the Maremagnum centre in Port Vell is perfect for a shopping spree. After all, what better way is there to enjoy a Sunday in Barcelona than spending that hard earned money of yours! With a wide range of brands available, it is the ideal place to revamp your wardrobe. There are also many restaurants and cafés with sea views in which you can relax in after a busy day of shopping!
10. Sunday Brunch
A Sunday can only mean one thing: a lie in. Enjoy a lazy Sunday morning in Barcelona by heading to one of the many brunch
places that the city has to offer. Kick back and relax with friends or family and begin your day without a care in the world. Recommendations of the best brunch places to visit are as follows: Milk Bar, Brunch & Cake, Picnic, Flax & Kale or Alsur Café. So, plenty of choice for your Sunday brunch.