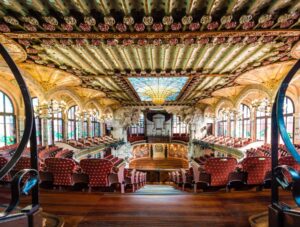 El Palau de la Música Catalana is one of the most prestigious concert halls worldwide. In 1997, the UNESCO World Heritage Committee declared it a "World Heritage Site." It is a near perfect representation of Catalan culture. The musical shows performed here are astounding, and you can most definitely find one that will suit your taste. Plus, the amazing Modernist designs inside will leave you awestruck.
History
The Palau de la Música sought to capture the culture of Catalan ordinary life. Looking to contribute to Catalan nationalism, architect Lluís Domènech i Montaner designed it in 1908. Domènech used his skills as an architect to truly create something wonderful. Natural light comes through beautiful stained glass and mosaics. It gives off a real heavenly experience. The performances put on do nothing but elevate its grandeur.

Performances
The music hall hosts a very wide variety of acts. From operas and flamencos, to jazz and organ concerts, you can catch just about anything here.
In the past, the Palau has hosted too many talented artists to list everyone. That being said, some of the very best who have seen the stage are: Anna Netrebko, Rolando Villazón, Matthias Goerne, and Xavier Sabata. All are expected to return for the 2015-16 season! El Palau de la Música has and will continue to host the most impressive performers.
In the near future, here are a few who you must see if you have the opportunity: The "Masters of the Spanish Guitar" Xavier Coll, Manuel González and Luis Robisco, Jonc & Jazz with Lluís Vidal Trio and Manuel Blanco, and lastly Ópera y Flamenco – "Historia de un amor" with Martín Meléndez. Prices usually range 20 to 49€. Their website http://www.palaumusica.cat/en/ makes it very easy to book any show online.
Tours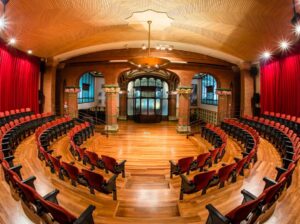 If you don't have the time to catch a performance then you could always take a guided tour around the building. The tour guides will take you throughout the entire hall. This includes being able to walk on the very stages themselves as the performers do. Perhaps the best part of the tour is arriving at Sala Lluís Millet towards the end. It is a spectacular room. You will be in a two story room with huge stained glass windows and bronze busts of the most exceptional musicians of Catalan culture as you look out on the balcony of the facade.
Tours last about 55 minutes, and are offered in Catalan, Spanish, French, and English. The tours are every 30-minutes from 10:00 a.m. to 3:30 p.m. and cost around 18€.
Location
The concert hall is located in the old town of Barcelona. More specifically, off the street Carrer de Sant Francesc de Paula.
To give you a heads up, this is one of the more crowded areas in Barcelona. However, it is very much worth the bumping against a few shoulders for the opportunity to witness this great sight.
Getting There
Bus Lines: V15, V17, 45
Metro Urquinaona: L4
If you wanted to plan out your day with nearby sights it is only a 10-minute walk from Plaça de Catalunya.