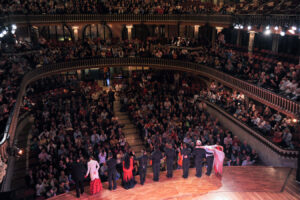 Flamenco may have originated in Andalusia, however that doesn't mean the North of Spain can't put on a spectacular show! 'Barcelona y Flamenco' aim to spread the art of flamenco through unforgettable dance and music productions. Combining the very best of Spanish & Catalan culture, under the guidance of award-winning director Rafael Amargo, today Barcelona y Flamenco hold claim to the most watched flamenco shows in the Catalan capital's theatres.
Opera y Flamenco Show
Barcelona y Flamenco have been sharing their love and passion for flamenco for over 10 years with audiences across Barcelona, the rest of Europe, and beyond. To date, over 2 million people have witnessed their breathtaking shows, of which Opera y Flamenco remains one of the most popular. Opera y Flamenco tells an enchanting story of love and admiration between the performers, combining the passion of the opera with the traditions of the art of flamenco.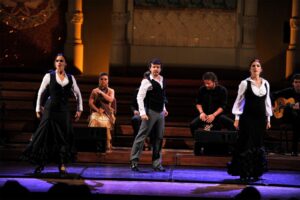 Gran Gala Flamenco Show
Another popular Barcelona y Flamenco show is Gran Gala Flamenco. This show will take you back in time to flamenco's roots, where you will experience the popular dance and music of the gypsies. This show will give you a true insight into gypsy identity, individuality and spirit, and is one which will enchant all audiences.
Top Theatre Locations
As if the spectacular shows alone weren't enough, the setting for them is a sight to behold. The shows take place at two of Barcelona's most popular theatres, Palau de la Música Catalana and Poliorama Theatre. Palau de la Música Catalana is one of Barcelona's nine UNESCO World Heritage Sites and presents a magnificent display of modernism mosaics on the outside and colourful designs on the inside.
The Poliorama Theatre is one of the best, modern theatres in Barcelona with a strong link to Catalan culture. With at least three Barcelona y Flamenco shows available per week, you are guaranteed to find one that suits your Barcelona sightseeing itinerary!

Grab a Discount!
If that wasn't enough to convince you to enter the world of Barcelona y Flamenco, we're offering a 10% discount exclusively for our customers. Book your Barcelona apartment with us and receive your 10% off your show.