Last updated: November 2017
Since Spain is one of the largest wine producers in the world, it's no surprise that some of the finest wine bars can be found in Barcelona. From a traditional glass of Rioja to a bubbling 'copa de Cava', there's no doubt you'll find something to suit your budget – and taste! Become a wine connoisseur for a day and sample some of the finest national and international wine labels in Barcelona.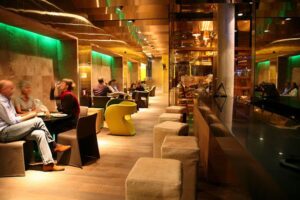 1. Monvínic
Since its opening in 2008, Barcelona wine bar, Monvínic, has received considerable recognition worldwide, being dubbed 'the best wine bar in the world' by Jay McInerney from the Wall Street Journal. This place is a must see during your visit to Barcelona with 60 of their wines available by the glass. Kick back in their comfy chairs and order your wine via a slick tablet, choosing your glass or bottle wine by region, grape variety or even producer! Top tip: opt for the menu of the day and enjoy a 3 course meal with wine included!
Location: C/ de la Diputació, 249
2. La Cave

Located in the up-market district of Sarrià, this trendy wine bar in Barcelona is home to more than 500 wines from around the world. This enoteca (wine library) really is a wine lovers paradise! Top Tip: accompany your wine with one of the exquisite French dishes on the food menu!
Location: Av. J V Foix, 80
3. La Vinya del Senyor
This Barcelona wine bar occupies a space in front of Barcelona's Gothic Church, ideally situated in the heart of Barcelona for locals and visitors alike! Here you will find a variety of over 400 wines from Spain and beyond, as well as some great value tapas dishes. Sip your wine on the outdoor terrace overlooking the Santa María del Mar Basilica and watch the world go by!
Location: Plaça Santa María, 5
4. Andú bar
Tucked away within the winding streets of the Gothic Quarter is this romantic Barcelona wine & tapas bar! The Gothic theme continues inside the bar with a dark and mysterious atmosphere adding to the experience. They have a great selection of wines and, if you're hungry, some top notch food too! Top tip: This is a great place to bring your date!
Location: C/ del Correu Vell, 3
5. Cata 1.81

Located at an underground venue in Eixample, Cata 1.81 serves more than 250 wines by the bottle and 25 by the glass, with a strong emphasis on every major Spanish region. If you're looking to sample some of the best wines from Catalonia, then this is the place for you. Their food is specially prepared to accompany the wines without eclipsing them. Top tip: get there early to ensure a table!
Location: C/ Valencia, 181
6. La Vinoteca Torres
This sleek and stylish wine bar in Barcelona is a great place to grab a light lunch and a great glass of wine. Ideally situated on one of the city's most famous streets, Passeig de Gràcia, here you will find a fantastic selection of Torres wines and some tasty tapas dishes to accompany them.
Location: Passeig de Gràcia, 78 
7. Casa Mariol Wine Bar
The idea of the Mariol family was not to offer the finest wines around, but to offer good tasting wines at an affordable price for everyone. This popular bar can be found just a few minutes from the Sagrada Família. If you don't have time to chat over a glass of wine in Barcelona you can even fill a bottle to take home with you. Top Tip: try the Suau drink, a blend of soda and coffee that was once extremely popular in Catalonia.
Location: C/ Rosselló, 442
8. Vila Viniteca
Vila Viniteca opened in 1932 making it one of the oldest wine bars in Barcelona. Since then, it has grown in to one of the largest wine distributors in Spain and now has 13 wines available by the glass. Located next to the bar is the Vila Viniteca shop, where you can purchase any of the 7500 bottles available! If you're looking for wines from all over the world, this is the place for you. With a huge international selection you'll be sure to find something to suit your taste.
Location: Carrer dels Agullers, 7 
Did we miss your favourite wine bar in Barcelona? Let us know in the comments below!