Last Updated: 11th July 2017
So you've ticked off Las Ramblas and La Boqueria from your 'must visit' list. You've discovered the beautiful Gothic Quarter and climbed to the top of La Sagrada Familia. You've gobbled your way through platefuls of delicious tapas and sipped on a glass or two of local Cava. Think you've seen all that Barcelona has to offer? Think again. You've actually missed out on one of the best examples of Modernist architecture in the world and one of Barcelona's finest (yet surprisingly overlooked) pieces of work – the incredible Hospital Sant Pau.
The Incredible Style of Sant Pau
Designed by Lluís Domènech i Muntanter, the man behind the awe-inspiring Palau de la Música Catalana and who was actually Gaudí's teacher, the Hospital de la Santa Creu i Sant Pau was constructed between 1902 and 1930 and is today a UNESCO World Heritage Site. It is one of the most interesting buildings of Barcelona and well worth taking the time to visit.
Famous for its beautiful Art Nouveau design with its weird and wonderful colors and shapes, it is true to the characteristics of the Modernist era, however it also has the curious air of a medieval palace. Domed and vaulted ceilings provide an elegant, dramatic atmosphere whilst towering doors, intricately detailed windows and brilliant chandeliers give a sense of grandeur. The church and library are particularly impressive parts of the complex.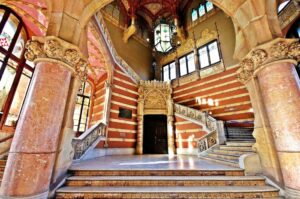 Light and ventilation are important features of the Hospital Sant Pau in Barcelona which, along with its wonderful interior decoration, give a lively, cheerful ambiance in contrast to other hospitals of the time which would have typically been gloomy places. It is said that the impressive arches and columns represent a medicinal plant garden and the wonderful representations of flora and fauna found around the hospital symbolize healing and rebirth triumphing over illness.
A Fascinating History
The beautiful mosaics in the hospital reconstruct the history of the building from its medieval origins to its modernist regeneration. Dating back to the year 1401 and the aftermath of the plague, this medieval hospital, originally named solely the Hospital de la Santa Creu and located in the Raval quarter, served the citizens of Barcelona for years.
However with the boom of the industrial revolution and the vast urban growth of the city, it was no longer able to serve the needs of the local population. By the 19th century it was deemed too small and unable to cope and keep up with the advances in medicine of the time. Something had to be done.
A Working Hospital with a Cutting Edge Design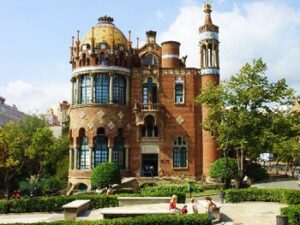 In 1896, Pau Gil i Serra, a wealthy Catalan banker living in Paris passed away. In his will he left some of his fortune to the construction of a new hospital in Barcelona. He had two conditions: that the hospital should be the very best in terms of architecture, technology and of course medicine; and that it should bear his name. Domenech i Montaner had the answer.
He committed himself to designing the best hospital of the day and came up with a truly unique construction which was to be located in the new Eixample district. His incredible Hospital Sant Pau consisted of twelve pavilions all connected by a kilometer of underground walkways. He wanted the building to be its own little world, a haven away from city life. He insisted that a garden be integrated into the complex, believing that sunlight and fresh air were of vital importance to patients and doctors, an innovative idea for the time. And staying true to Pau Gil i Serra, the generous gift-giver's initials are intricately carved into the walls of the hospital.
Visiting the Hospital Sant Pau

In 2009 the iconic role of Sant Pau as a working hospital came to an end and its transformation into a cultural centre began. Visiting the complex is a wonderful experience, offering a unique insight into the history of Barcelona and an opportunity to discover one of its most unknown yet fascinating corners! It is also possible to visit the original hospital in the Raval now called Antic Hospital de la Santa Creu i Sant Pau and which houses the National Library of Catalonia.
Guided tours of Hospital Sant Pau are offered in English and are held every day of the week at 10am, 11am 12pm and 1pm. Ticket prices are as follows:
Standard ticket
Self-guided visit: 13 €
Guided visit: 19 €
Concession ticket
aged 12 to 29, over 65, Targeta Rosa Reduïda cardholders, people with a degree of disability of less than 65% or with a degree of dependency of 1 or 2
Self-guided visit: 9,10 €
Guided visit: 13,3 €
Free admission:
children under 12 (accompanied by an adult), unemployed, teachers, Targeta Rosa Gratuïta cardholders, people with a degree of disability equal to or greater than 65% or with a degree of dependency of 3, and their companion
Discounts
20% off:
BCN Card, Bus Turístic, City Tours, Carnet BCN Cultural, Carnet d'Usuaris de la Xarxa de Biblioteques, Club TR3SC, Òmnium Cultural members, RACC members.
50% off:
Ruta del Modernisme / Barcelona Modernisme Route
Carnet Jove (only self-guided visit)
Groups (maximum 30 people per group)
General: 250 €
Concession ticket (retired and special groups): 180 €
Information and booking: visites.recinte@santpau.cat
School visits
Self-guided (accompanied by teachers)
Students under 12 years old: free ticket
Students between 12 and 18 years old: 3 €
Guided visit (maximum 30 people group)
Students under 18 years old: 125 €
Students over 18 years old: 140 €
Information and booking: escoles.recinte@santpau.cat
Metro: Sant Pau/Dos de Maig (L5) or Guinardó/Hospital de Sant Pau (L4)