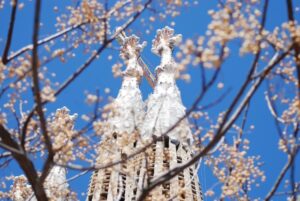 With the weather starting to warm up, and the trees on Passeig de Gràcia budding with life, Barcelona in springtime is certainly worth checking out. Home to some fantastic festivals and events, many of which will be occurring in the coming months, there is plenty going on in and around the city, besides all of the other amazing attractions and springtime activities, of course. So, if you're thinking of taking a trip to Barcelona this spring, you most definitely have to check out some of these fascinating shows offering a taste of culture, fashion and mind-blowing music.
Semana Santa
WHEN: April 1st – April 9th 2012
WHERE: Everywhere in Spain, but with special events taking place in central Barcelona
WHAT: Easter in Barcelona, a holy week of processions, parades, sweet treats and much more…
The holy week of Semana Santa is recognized and celebrated across the whole of Spain, and Barcelona is no exception. With parades, processions and some of the best chocolate treats in Europe, you will be sure to find something to enjoy during this week, no matter what your religion.
Since many residents of Barcelona choose to spend this holiday in the nearby villages, seaside towns and country homes, this leaves the city for you to explore: some things to look forward to on a visit to the Catalan capital include the Mona de Pascua cake, folk dances, and "El Paso de La Borriquita."
The Mona de Pascua is the most traditional food found in Barcelona at Easter. It is a sweet cake made with chocolates and it can be found all over the city. As well as tasty treats, Barcelona holds many Easter processions including "El Paso de la Borriquita," which commemorates the arrival of Jesus in Jerusalem on a donkey. With the warm spring weather creeping in and fewer people on the streets, Semana Santa makes for the perfect week for you to escape to Barcelona on your Easter holiday.
Festival de Sant Jordi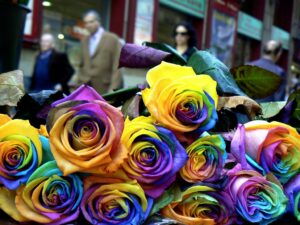 WHEN: April 23rd 2012
WHERE: Everywhere in Catalonia. In Barcelona: Las Ramblas, Plaça del Pi, Plaça de Sant Jaume, the Gothic Quarter, and various other districts and towns
WHAT: Barcelona's version of Valentine's Day
 La Diada de Sant Jordi is Barcelona's very own Valentine's Day festival. While Catalonians do celebrate love on February 14th, it is nothing compared to the Sant Jordi Festival, held in springtime each year. On April 23rd, the city is adorned with the Barcelona flag, book stalls line Las Ramblas and you can see the traditional folk dance, La Sardana, in the city's Barrio Gótico.
The festival is held in commemoration of the patron saint of Catalonia, Saint George. The story goes that many years ago a dragon was terrorizing a town just south of Barcelona, and it was about to take the life of a beautiful princess. The saint managed to kill the monster, and in doing so a rosebush sprouted from its blood, so Sant Jordi plucked and delivered one of the roses to the princess. From this tale came the tradition in Barcelona whereby the men give roses to the ones they love on Saint George's Day. But wait, there's more!
In 1995, April 23rd was named World Book Day in honor of great authors such as Miguel de Cervantes and William Shakespeare, who both died on this day in 1616.  But long before this, in the 1920s, booksellers in Spain noted the significance of the date, and began to promote their sales through the Diada de Sant Jordi. So, in return for their roses, women presented books to the men they love. This tradition is a now a huge part of the Sant Jordi celebrations.
Primavera Sound Festival 2012
WHERE: Parc del Forum/Arc del Triomf
WHAT: A giant 5-day music festival, showcasing artists from around the world.
Are you a music junkie? Always looking for the latest and greatest music from all over? Look no further than Barcelona's own, Primavera Sound Festival.
The festival will begin on May 30th and lasts for 5 days. Visitors to the event can purchase tickets to last the entire duration or just day passes.
The festival is known for bringing an eclectic collection of artists to the stage, with a focus on independent and newly established international groups. The genres of music, however, have been known to range from alternative, indie and folk, to electronic, pop, hip hop and jazz. A few of the headliners this year include: The Cure, The XX, and Franz Ferdinand.
With over 130 artists in total performing at a beautiful venue that over looks the sea, how could you possibly miss this springtime festival?
For more information, check out the website for San Miguel's Primavera Sound Festival 2012.
Barcelona Bridal Week 2012

WHEN: May 8th-13th 2012
WHERE: Fira de Barcelona, Gran Via Venue
WHAT: A huge bridal fashion show, with designers from all over the world coming to showcase their works.
As a major European city and an art hub too, it is no wonder that high fashion is not lacking in this cosmopolitan town. During the week beginning May 8th, Barcelona will play host to one of the most important fashion shows to come to the city:  Barcelona Bridal Week.
Designers, both local and international, will flock to the Catalan capital to show off their newest dresses for this year's spring bridal collection.
Not looking to get hitched any time soon? No worries! The bridal show is more than just for those ready to walk down the aisle. The dresses featured in this show will be sure to delight everyone. Now known as the world's largest wedding fashion business center, this event is not only for brides.
The show will be open to the public with a list and times of shows available for viewing. For more information, check out the Barcelona Bridal Week website.
Whether you're coming for a weekend, or for the entire spring season, checking out at least one of these events is a must. Not to mention all of the other fantastic festivals happening in Barcelona this spring. We recommend grabbing some friends and staying in one of the many centrally located apartments in Barcelona, allowing you to enjoy everything that the city has to offer!